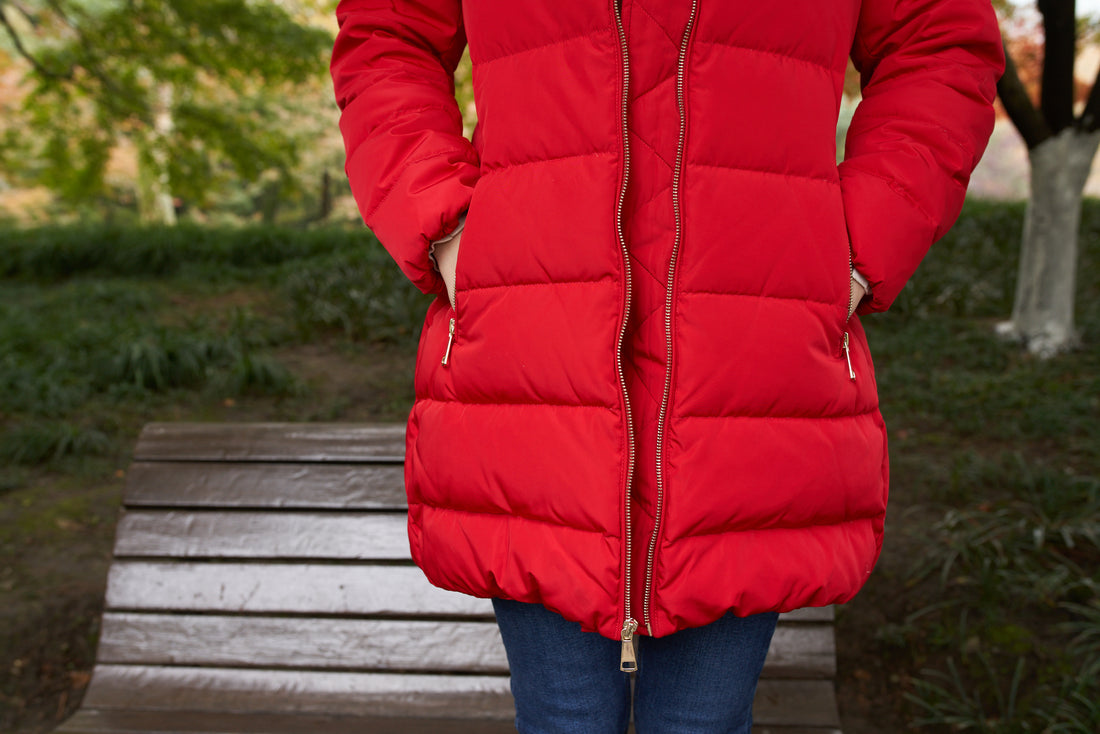 Why Faux Down Coats Are Preferred By Environmentalists and Are Quickly Replacing Down Coat
When it gets cold, you need to keep yourself warm. Therefore, you need a jacket that is warmer, durable and affordable. It should also be versatile and something that is easy to clean. Leather jackets are the best options to buy. However, they are expensive and difficult to maintain. Thus, when winter comes, it should find you fully prepared for it. This is where faux jackets come in. They are warm, stylish and designed to keep the winter cold at bay. 
Faux leather is made of artificial materials treated with chemicals to give it the feel and the texture of real leather. It is synthetic leather whose construction places it into two categories Polyurethane PU and Polyvinyl Chloride (PVC). 
Whichever type you choose, faux leather has a unique feature that makes it desirable for making jackets and upholstery. It is durable and affordable. Besides, it offers a complete value for money to the end-users. If maintained well, faux leather will last for a long time and will protect you from excess cold. Read on to see why you should visit ikazz.com and select faux jackets in preparation for the coming winter.   
What Are Faux Jackets? 
They are jackets made of artificial materials treated with chemicals to get the texture, the feel and the color of the real leather. They come in different designs meant for both men and women. 
Faux leather is, therefore, factory manufactured, and so they come in uniform patterns and are more water-resistant than real leather jackets. The good thing about them is that unlike the leather jackets requiring that you kill animals to obtain the fur, faux jackets are factory-made. So, they are considered environmentally friendly since they are made from synthetic materials. They may not be so gorgeous the way leather is, but they will keep you warm during the cold season. 
However, when it comes to pricing, faux leather is cheaper and affordable. Besides, the materials are highly versatile, and you can polish them to get a matt finish or a very high gloss. Also, a faux jacket requires very little effort to maintain. Moreover, they do not crack easily and have a high water resistivity capability.
Note that faux is stain resistant, does not fade easily and is UV resistant. The materials are unique and easy to work with, including stitching them. However, faux material has its shortcomings when compared to leather. For instance, PVC faux leather is not breathable and will not retain its luster for a longer period. The materials are not strong and will puncture and tear easily if you don't handle them with care. However, faux leather is not harmless. The material is made from fossils, and its processing releases compounds that can harm the environment. 
How Do You Maintain Faux Jackets?
Faux leather is stain resistant, and thus, you can easily clean it by wiping using a non-abrasive piece of cloth. You may also use water or any other washing liquids to remove resistant strains. If you choose to use a soft cloth, wrung the piece of cloth to remove the extra solution and wipe it gently. You can then let it in the open spaces to air dry.
Alternatively, you may decide to clean it by wiping it with a piece of cloth soaked in water solution. You may also use a mild detergent or any liquid soap to wipe it. A wet piece of cloth will remove dirt, debris, and grime on faux leather surfaces. 
Also, you can repair faux coats by simply smoothing the damaged area and using tweezers to flatten it. You may then polish the surface to give it an even look. 
What Are The Faux Jackets Meant For, And Why Should You Buy Them?
When winter sets in, you must have several jackets to wear to beat the chill weather. Faux leather is therefore designed to protect you from the chill and cold associated with winter. Faux are synthetic and do not require that you slaughter an animal to get the raw materials. So buying it will not just take care of your winter cold but will directly contribute to animal welfare.  Additionally, faux is cheaper compared to animal fur, which is already in short supply. Therefore, it allows people in the lower class cadre to imitate their upper-class counterparts without spending much. Besides, faux down jackets are warmer and can protect ladies from the chill of winter while allowing them to look gorgeous. What's more is that since it comes in a wide range of colors and patterns, faux jackets give ladies many options. Also, they are versatile and will allow them to choose their favorite colors depending on the occasion. 
Note that faux fur is artificial, but it is very warm when temperatures drop. It is factory manufactured and will remain warm even when freezing. Therefore, faux will keep you warm, whether at night or during the day. 
But it is good to remember that faux furs are of different quality. So investing in the best quality will make you feel like someone wearing the real thing. Also, the coats come in different styles, some of which go out of fashion quickly while others do not. As a result, they give you a wide range of coats to choose from. 
Myths About Faux Jackets        
Although faux leather has made it possible for low-income earners to dress as close as possible to high-income earners, there are plenty of myths on the internet concerning faux and leather jackets. Some of the common ones are:
It is difficult to repair faux and leather jackets
Truth: it is not possible to repair faux and leather jackets and get good results. However, if you have appropriate leather repair kits, you can replace the torn sections of your faux leather coat and continue wearing them. You will even get better results if you outsource the job to leather repair specialists who will help make your faux leather jacket look new once again. 
You cannot wear faux leather in summer
Truth: faux leather is not breathable. So when the weather changes and gets hot, you will find wearing the jacket difficult. However, this may not be the case when dealing with breathable real leather jackets. 
Cleaning leather is difficult
Truth: Although it is difficult to clean leather during the hot summer, you can still clean your faux leather using any cleaning products available online. These are products that are specifically designed to be used to clean leather materials. Also, you will need to adapt and use recommended methods if you want to get better results.  
Faux leather is not better than modern fabrics
Although maintaining faux fabric may be difficult, it does not make other jackets superior to faux leather. It is only the real leather jackets that are superior to faux leather jackets. But if you maintain and clean them regularly, they will give you great service. 
How Faux Jackets Impact The Environment
Faux fur is synthetic and may take hundreds of years before they break down. So the old faux garments are likely to take more spaces in our landfills. In addition, because faux far is made from fossil fuel, it is likely to shed millions of microfiber every time it is washed. They are plastic-based threads that can be a threat to marine life when they get into the oceans. They contaminate and pollute water.
But faux fur contributes big to preserving the environment. Its invention has reduced the number of animals killed to extract the fur industries need to produce real leather jackets. Additionally, the cruelty to which these animals are subjected too has been eliminated. 
But because of environmental concerns, some companies have mislabeled real fur as faux fur. They do this to avoid blame, but they are subjecting a lot of animals to cruelty. They extract fur from minks, fox and rabbits and wrongly label them as faux materials.
Also, the process of turning real fur into coats is expensive and pollutes the environment. Besides leading to the death of animals, it emits CO2 into the environment, which further contributes to global warming. 
Before real fur is used, it must be treated with a host of toxic chemicals and is likely to cause numerous health risks that the world is experiencing.  
Are There Downsides To Wearing Faux Coats?
Although the advantages of wearing faux coats are immense, there are some downsides to using the product. Firstly, when you opt for faux fur, it eliminates the animal welfare issue but does not remove the impact. Fake faux fur still comes from animals and results in mass killing and torturing of animals. 
Faux fabrics are made up of synthetic fiber, a form of plastic that takes many years before decomposing. Therefore, the fiber will find its way into the landfill site. 
Furthermore, when you wash faux fur, they leak into the water system and result in micro-plastic pollution. 
What To Consider When Buying Faux Jackets
When you go out to buy coats, you must buy items that you will wear repeatedly. It should be something you should be able to donate when you fall out of love. Alternatively, you should be able to donate it to charity once you are done with it. It means that the faux jacket you buy must withstand the test of time. Its quality must be above average. 
Style
You need to look at the influencers and what they are doing. These are people who always work hard to stay ahead of the rest in terms of style and fashion. Besides, they know what they want and will always work hard to remain at the top. The only problem is that they may not give the signals early enough to enable you to prepare for winter. So you must wait for the season to start to see the type of faux jackets they adorn. Note that celebrities will always cause a stir on their social media page. So following them might help you discover the faux jacket that will trend during winter. 
But when it comes to style, some of the options you may need to consider are:
Short And Sweet 
If you are interested in a short but well-fitting faux coat, a bomber or shawl jacket may be ideal for you. They are both stylish and will keep you warm without weighing you down. They are great jackets for winter if you live in the warmer part of the world. Also, they are ideal for chilly conditions but may not offer you much protection when it freezes. Therefore, you must go for hooded fur coats to protect your head from the cold. 
Mid-Length Faux Coats
They cover the butts and are designed to keep you warm when it is snowing. Those that are wooded or feature huge pockets have an added advantage. They allow you to bury your fingers in the pocket and go about your day-to-day business without caring much about the weather. They are not as heavy as the long faux coats which will keep weighing you down. 
The Long And Strong Type
Sometimes, the winter temperatures may get too low to the freezing point. So you'll need something that will keep the entire body warm. The long coat may keep you warm and allow you to go about your business uninterrupted.  
Research Results
You may need to do some research on the trending faux coats. Luckily, there are plenty of bloggers out there who will do the donkey work for you. They will research and share the details in their blogs. Your work will be to read them, and get an update on the trending faux jackets.
Color and Style
Luckily, faux furs come in many colors and endless styles. You will get virtually everything when it comes to color. You have the rainbow, all primary colors and secondary colors to choose from.
Your Fit
When you wear the faux jacket, you mustn't look like someone who has just returned from a drinking den. Therefore, buying something nice fitting will pay off. Notice that most faux hooded coats are unisex. They are designed for both men and women. Thus ensure to check the size which is a good fit for you. If you will be ordering them online, ensure to have the measurements with you. The most vital measurements you must ensure are ready include:
The wider part of your chest.
The length from your shoulder to the wrist.
The shoulder to shoulder length.
The distance around your wide-spread hips. 
Types Of Faux Jackets You May Consider Buying
As winter approaches, temperatures will start to drop. So you must find the right jackets to keep the cold at bay and ensure that you remain glamorous. Therefore, you have the option of choosing between animal fur coats or faux jackets. Of course, we are sensitive to the animals, and we do not want them to be killed just because we want to keep ourselves warm during winter. So we must try to stick to and buy faux jackets. However, if you are new in the market, you will be spoilt for choices. Therefore, here are some of the options you may need to consider. 
Checked Faux Fur Coat
Checked faux fur coats are likely to outlive any other type of coats that will trend. As such, when it comes to buying something for the winter season faux fur coat is the staple wear. It may not have the vintage appeal associated with what celebrities want to down to make a point, but it is designed to protect the wearer from the freezing winter. 
Faux Leather 
They are comparable to real leather jackets, but they are more affordable. The jackets are highly durable but require a high level of maintenances. Faux leather comes in different patterns, styles, colors and even designs. They are also manufacturer friendly and are cheaper than the real leather.  
Faux vs. Bonded 
Bonded leather contains 10 to 30% of real leather, while Faux is purely artificial and does not contain any leather. In fact, the bonded leather is made from scraps and the leftovers of real leather. So it is the least durable and the least expensive fabric.  
Further, bonded leather is not appealing and may extremely thin. But it is synthetic and could be very versatile. Besides, it is difficult to clean and is susceptible to wear and tear. Also, bonded leather wears out fast and peels easily. 
Warmest Faux Jackets For Winter
Although most jackets will protect you from the winter cold, there are warmer ones which will give you better protection. They come in a variety of sizes ranging from medium to large to extra-large. They include:
Cameo Women Fuzzy Jacket 
It is an oversized cozy fit long-sleeved jacket featuring two side pockets and is designed to keep you warm even when the weather is extremely cold. The jacket matches well with other fittings such as T-shirts, jeans, skinny pants, knee-high boots, body-on dress, and even high-heeled shoes. In addition, you can wear the jacket as daily wear when going to school, work, or even when on vacation. It is a great outfit for people who love partying. 
Taking care of the cameo women's jacket is simple. You have the option to choose between hand and machine washing. You should then dry it in the open. The jacket is made of soft but friendly polyester and Spandex. It is oversized and an ideal one for winter. 
2PRETTYGARDEN Fuzzy Long Sleeve Lapel
It is a long-sleeved jacket that is solid and features two side pockets and double side faux. The jacket is the best companion to anyone planning a holiday during winter. It is elastic and is a better match to black slacks, leggings, T-shirts, bodycon dress, jeans, high heels and knee-high boots.
Notice that thejacket is designed to keep you warm during the chilly weather. PrettyGarden is an oversized faux fur jacket that is suitable for any occasion. Also, you can wear it during winter, autumn and when going for outdoor activities. The jacket features a simple design, meaning that it can be a good gift for families and friends. You can wear it as casual or official wear. The plus-size fleece is ideal for anyone interested in something that can protect them from excessive cold and chilly weather.  
Angashion Women's Fuzzy Fleece
It is another warm and winter outwear jacket which comes in many colors ranging from black to beige to Camel. You can also buy the grey, navy, red and pink types. In addition, the fleece comes in Army Green, black and brown colors. 
 It is made of cotton and polyester and is faux padded. Women will pair it with shirts, jeans, sweaters, and even short boots. Also, they can choose to wear it with palazzo pants. It implies that you can wear it as casual attire when attending an occasion. The casual style is long-sleeved, has an open front and extends up to the knees. 
Believe Women's Faux Suede 
The coat is made of 100%Acrylic fur, which you can easily blow-dry. The fur is well aligned and distributed to make the coat lovely. It is soft but warm and comfortable and is made of stain-resistant faux fabric. Also, the fabric is water-resistant and will keep you warm during winter. It features a belt at the end of the hem, which makes it sleek and a good choice for ladies.
Belivera faux jacket is stain resistant, durable and affordable. It is one of the motorbike jackets that is easier clean and maintain. Believera Women's jackets will stay fresh if well maintained. It features two zipped pockets where you can keep all the small items you want to walk around with. 
You may want to consider buying this jacket for winter because it has a warm fur lining and a detachable fur collar. It is a staple jacket in the women's closet and comes in an array of colors, including gray, black, brown, and pink.
Belivera, is something that ladies can wear with an underneath t-shirt or a dress. You can also wear it with jeans or any other trousers. Also, it is an ideal jacket you may consider wearing when going partying or when going to the office. You may choose to combine it with Cesar boots, high boots, or marten's boots. 
Calvin Klein Women's Collar coat
It is made of 100 % polyester but features a faux trimmed collar. The coat is super warm and unique in many aspects. It can be zipped from the center, either downward or upwards. The asymmetrical zipper allows the wearer to zip it in either direction. 
So for ladies who love coats that elevate their social status, Calvin Klein women coats are among the options they must consider. It can make them look glamorous and will help them make a good impression when they venture out. 
The length is fine and extends past the butt depending on the size you ordered. It feels nice to wear it in the evening, but you can combine it with jeans if you want something casual.
Vetinee Women Faux Fur Lapel 
It is a hooded jacket for winter with a V neck and which features a front zipper enclosure. It comes in all sizes, including the warm launch wear with plenty of faux furs down. Vetinee women faux provide moderate warmth and are long-sleeved. The coat allows you to remain warm even as the weather gets colder. 
Note that this is a great coat you can wear any time when going about your day-to-day activities or when going out on holiday. You can also wear them when it is chilly, during the fall or winter. It is a good option for people who venture out when it is snowing; since you can cover yourself with a hoodie. 
The Best Faux Jackets Under $200
H&M Faux Fur Jacket
It is one of the coats that are highly demanded by ladies that want to look spiffy. It is less bold and comes in both black and beige colors. 
BlankNYC
It looks like any other winter jacket but features deep side pockets and a nice collar. This coat comes in unexpected colors that include subtle pumpkin, neon orange, lavender and any other color you may want to adorn.
Abercrombie & Fitch Coat
It is one of the finest products from Abercrombie $ Fitch. It has an oversize collar and comes in five colors. The jacket is cozy and is all you need if you want something that will hold well during the cold winter season. If you are interested in the full-length or half the length, outwear, you will get it. 
Wild Fable Women's Faux Fur Jacket
It comes in pink, beige and blue colors with an open front. It is not all that warm but will still protect you from low temperatures during winter. 
UGG Mandy Faux Fur coats
They are hooded coats that are stylish but will keep you warm when the temperatures drop during winter. They are hooded and feature handwarmer pockets and fleece. You have four colors, including leopard print, to pick from.  
Apparels Britney Coat 
It is another faux jacket from Apparis that comes in juicy pink and neutral colors. The brand is voted as eco-conscious and is considered the best coat for anyone looking for something stylish. They are soft coats that come in neutral colors, are splendid and eye-catching. 
Jakke Hedda Faux Fur coat
It is another coat that is an extravagant option for anyone looking for a faux coat. The coat comes with a hood and is designed to keep the winter cold at bay. It is oversized to give room to cropping.