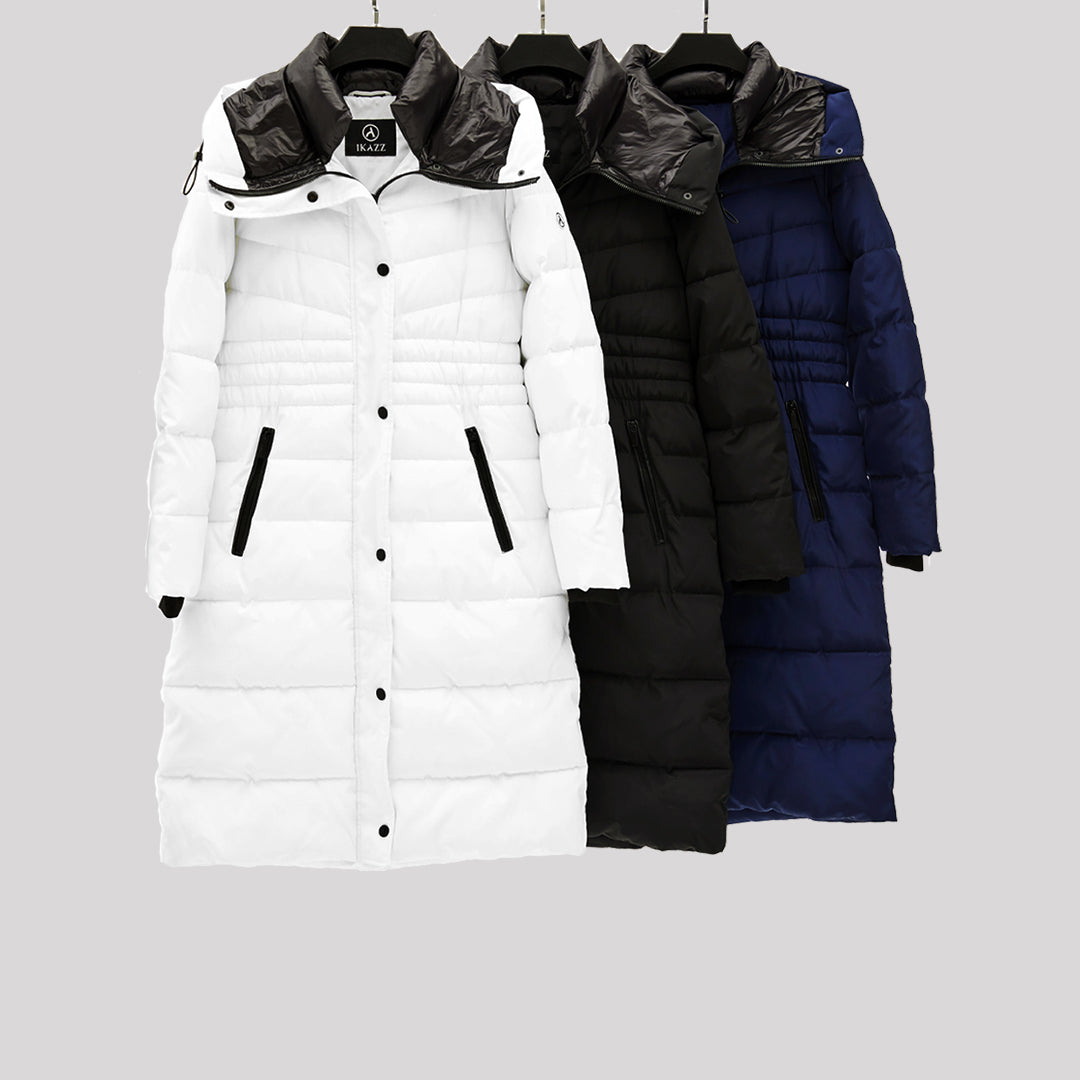 Conquer Winter with Confidence: IKAZZ's Water-Proof Puffer Jacket
To deliver lasting warmth and comfort to those who face the cold remains one of IKAZZ's commitment. We are driven by a passion to help others and integrate thoughtful solutions into our winter jackets. Our water-proof puffer jacket stands out as an exceptional choice, providing not only protection from the elements but also empowering individuals to embrace themselves and reduce body anxiety. With our commitment to sustainability, we ensure that the warmth we bring to everyone lasts for a long time, both for people and the planet.
The importance of water-proofing
When it comes to battling the harsh elements of winter, water-proofing becomes crucial. Our water-proof puffer jacket is designed with a high-density water-resistant THERMOLITE® fabric that ensures you stay dry even in wet conditions. This innovative material has a 3D hollow structure, offering excellent filling power, resilience, and lightweight comfort. Whether you're caught in rain or snow, our jacket will keep you protected and dry, allowing you to enjoy your outdoor activities without worrying about moisture seeping in.
Unmatched Warmth and Comfort
Our water-proof puffer jacket is engineered to provide superior warmth in even the most extreme cold. With a LEVEL.3 rating for crazy cold temperatures, this garment maximizes the warmth-to-weight ratio, making it an ideal companion for winter's wildest moments. The jacket features V-quilting, which not only creates a visually slimming effect but also enhances insulation by trapping heat effectively. The detachable faux fur hood adds an extra layer of coziness, ensuring your head and neck stay warm.
The elastic cord of the hood can be adjusted freely, allowing you to customize your fit dynamically. Our RIB-KNIT cuffs offer enhanced windproof capabilities and retain warmth, keeping chilly drafts at bay. The fleece material pockets provide additional insulation, keeping your hands toasty even in freezing temperatures. With IKAZZ's water-proof puffer jacket, you can experience unparalleled comfort and protection throughout the winter season.
Conclusion
In conclusion, choosing IKAZZ's water-proof puffer jacket means embracing a garment that not only delivers exceptional warmth but also embodies our commitment to people, spirit, and nature. Our jackets are designed with careful consideration for what individuals truly need in cold weather, empowering them to feel confident and comfortable. With its high-density water-resistant THERMOLITE® fabric, detachable faux fur hood, and thoughtful features, our jacket ensures that you can face any winter adventure with confidence. Moreover, our commitment to sustainability and minimizing environmental impact makes IKAZZ a brand you can trust. So why compromise on warmth and style when you can have it all with IKAZZ's water-proof puffer jacket? Embrace the elements and embrace yourself with IKAZZ.