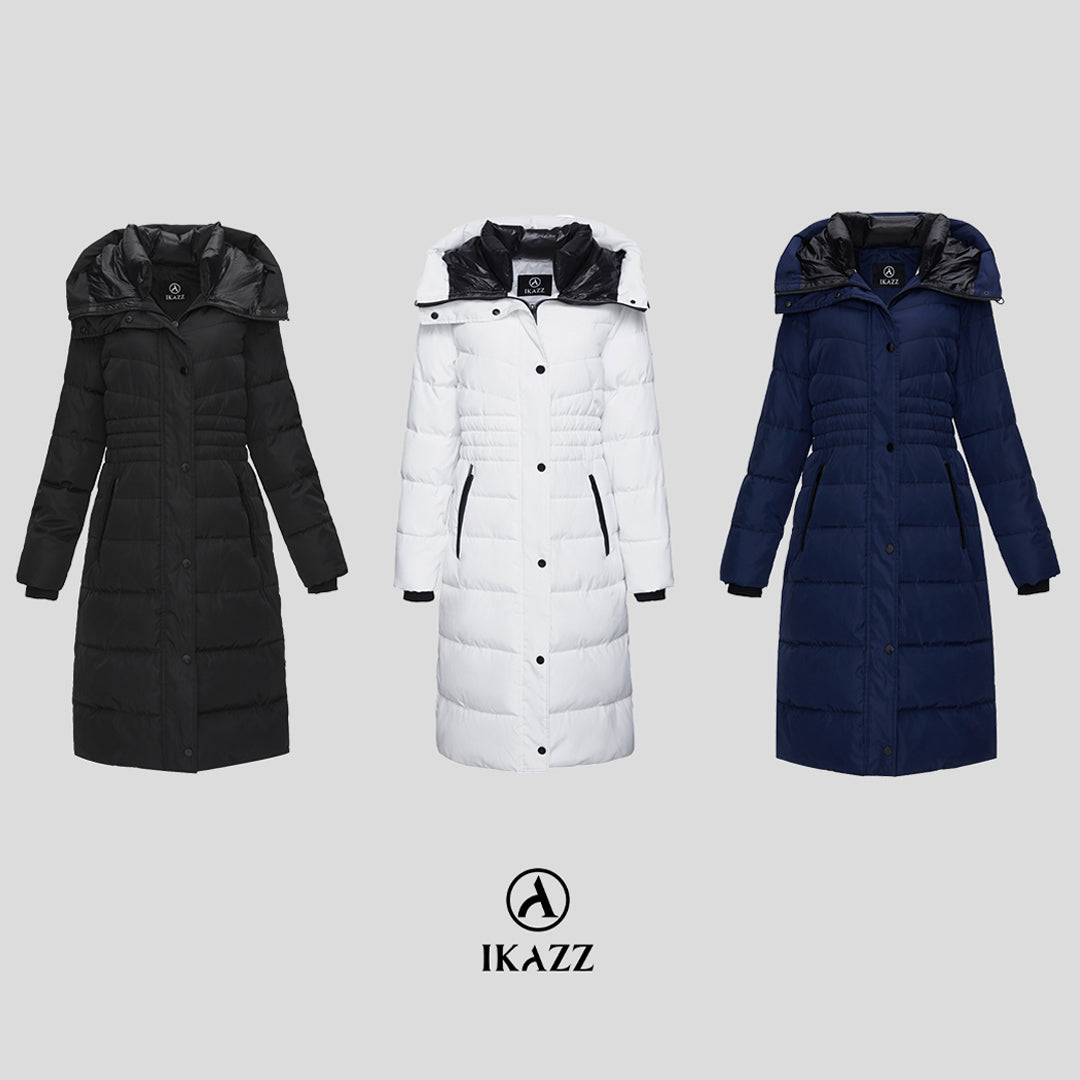 Cuddle Up in IKAZZ's Animal-Free Puffer Coats for Vegetarian
Welcome to IKAZZ, where warmth meets compassion. We understand that staying cozy during the colder months is essential, but we believe that fashion should never come at the expense of animals. That's why we are proud to introduce our collection of animal-free long puffer coats, specially designed for vegetarian individuals. Join us as we explore the remarkable features of our long puffer jackets, made with love and consideration for both style and animal welfare.
Unparalleled Warmth and Comfort:
At IKAZZ, we prioritize your comfort without compromising on style. Our long puffer coats are meticulously designed to provide exceptional warmth and insulation. Using innovative synthetic materials, we have crafted coats that mimic the softness and thermal properties of traditional down, ensuring that you stay toasty in even the coldest weather. Whether you're exploring wintry landscapes or strolling through the city streets, our long puffer coats offer the perfect blend of warmth and comfort.
Animal-Free for Ethical Fashion:
As vegetarians, we understand the importance of embracing a lifestyle that respects the well-being of all living beings. That's why our long puffer coats are 100% animal-free. We have carefully chosen synthetic materials and alternative fillings that deliver the same luxurious feel and insulation as their animal-derived counterparts. By choosing IKAZZ's animal-free long puffer coats, you can confidently showcase your personal style while making an ethical fashion statement that aligns with your vegetarian values.
Sustainable Materials
At IKAZZ, we are committed to reducing our environmental impact and promoting sustainability. Our long puffer coats are crafted using eco-conscious materials that prioritize the well-being of our planet. From recycled fabrics to responsibly sourced components, every aspect of our coats reflects our dedication to a more sustainable future. By choosing IKAZZ, you not only prioritize animal welfare but also contribute to a cleaner and greener world.
Versatile Designs 
We believe that fashion is an expression of individuality, and our collection of long puffer coats offers a range of versatile designs to suit various occasions. Whether you prefer a classic and timeless look or a more contemporary and vibrant style, we have the perfect long puffer coat for you. Our coats are designed to seamlessly integrate into your wardrobe, adding both elegance and warmth to your outfits. From casual outings to formal events, IKAZZ's long puffer coats are the ideal companion for any occasion.
Choose IKAZZ for Compassionate Fashion
If you're a vegetarian seeking a long puffer coat that combines warmth, style, and ethical fashion, IKAZZ is your ultimate destination. Our animal-free collection allows you to snuggle up in comfort and style without compromising your vegetarian values. By choosing IKAZZ, you join a community of fashion-forward individuals who prioritize compassion and sustainability. Embrace the warmth and elegance of IKAZZ's animal-free long puffer coats and make a compassionate fashion statement.
Conclusion:
As we conclude our journey through IKAZZ's animal-free long puffer coats for vegetarians, we invite you to embrace warmth and compassion in your fashion choices. Our coats offer unmatched comfort, style, and ethical value, allowing you to stay cozy while upholding your vegetarian principles. Join us in creating a fashion-forward, cruelty-free world by choosing IKAZZ's animal-free long puffer coats. Cuddle up in style, knowing that you are making a compassionate choice for animals and the planet.