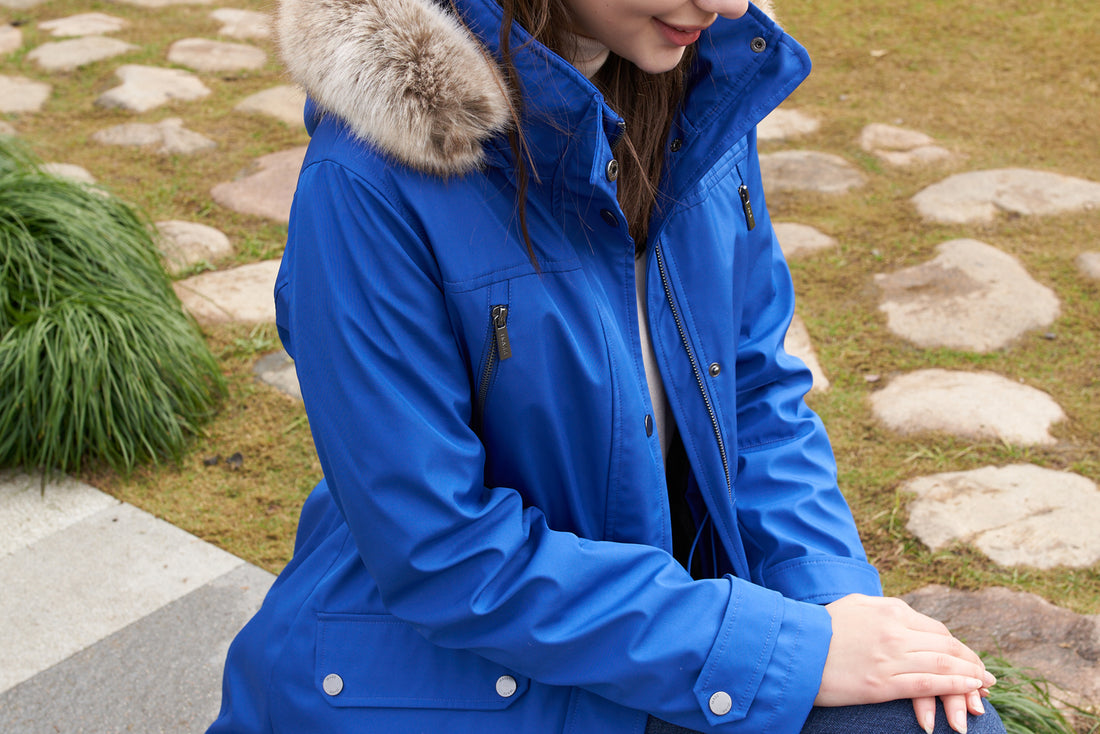 How to choose a Windproof Hooded Parka Faux Down Coat
After the pandemic lockdowns, most of us are looking forward to spending most of our free time outdoors. Keeping warming is one of the biggest concerns for most of us while outdoor, especially in the early morning and most evenings when it's cooler. We have all experienced the wrath of a brisk wind on a cool day, it can leave you feeling very cold and uncomfortable.
Investing in a coat remains one of the easiest ways to keep way. Buying a Windproof Hooded Parka Faux Down Coat will protect you from the wind, and you will be able to enjoy your evening walk or outdoor festival in peace.
In today's market, there are a variety of windproof coats, which can feel overwhelming when shopping. We have compiled an easy-to-follow guide to help you choose the perfect Windproof Hooded Parka Faux Down Coat.
 Understand the difference between windproof and wind-resistant.
- windproof – windproof fabric does not allow any wind through it no matter how hard it blows against it.
- wind resistant – this is an industry-made term used to measure the amount of wind speed required to penetrate any fabric. This is why most labels will have the term wind resistant because you can tell how much protection you will get. 
So, which one should you choose? – windproof, for these reasons :
More wind-resistant fabrics make a pretty muffle sound, which can be very uncomfortable to your ears.
Wind resistant fabrics are less breathable, hence wearing a wind-resistant coat will have you overheating and sweating.
The windproof coat has waterproofing capabilities.
 Factors to consider when choosing a windproof coat:
what are your needs?
Understanding your needs will save over 50% of the hustle of looking for the perfect coat. 
What are you looking for a casual or a formal coat? – will also affect the range of colors acceptable. For a formal coat go for dull colors like black, grey while for casual pick bright colors.
What activities will you be engaging in while wearing the coat? Will you be walking, skiing, jogging, snowboarding, or even riding a bike?
What are the expected weather conditions? Will it be rainy? Snowy? Windy?
What is fashion style?
What size coat are you looking for?
Type of windproof coats available.
Windproof jackets can be divided into :
Windbreakers- these are the lightest of the three. Their coat shell is made from breathable nylon. They are the cheapest windproof coat in the market and light in weight. Perfect for someone engaging in activities that produce a lot of body warmth like running. However, they are waterproof.
Raincoats – made from breathable and waterproof fabrics that generally keep water from coming in and also wick moisture from your skin to keep you dry and comfortable. 
Excellent for wet conditions, However, they are not as effective at keeping you warm.
Hardshell coats – made of three different layers of fabric.
The outer shell –
Inner insulation layer.
They are the warmest and cost more. Perfect for windy, rainy, or snowy days. This is the perfect jacket for skiing or snowboarding.
Durability –
It's important to check the durability of any coat, this is also greatly determined by what your intended uses are. If you are looking for an everyday windproof coat consider investing in a hardshell coat. Choosing any of the other types of windproof coat and its fabric may start thin, crinkly, and transparent because of overuse.
Check for these additional coat features:

Pockets – check whether the windproof has handwarmer pockets, internal pockets, or internal stash pockets.
Hood – check whether the hood is detachable.
Drawcord – is useful for closing gaps for efficient heat retention.
Cuffs – help keep the cold air out.

Check fit.
Bigger is not always better – if the coat is too roomy it will lose is its insulation properties.
If it's too tight at any part (arms, shoulders, chest, or hip), then it's not the coat for you!
Raise your arm as high as possible and bend try to touch your toes while wearing the coat. It's important to ensure your mobility is not hindered by the coat.
Shoulder seam check -the coat seam should line up with your shoulders. 
The best windproof coats available.
IKAZZ Windproof Hooded Parka Faux Down Coat has proven to be a customer preferred windproof coat because of its superior quality and affordable prices.
Feature to expect :
Uses polyester fabrics with, thin texture to keep you dry, warm, and comfortable.
Detachable hood.
Hood has quality faux fur that is water-resistant.
Double-layer windproof zippers.
Insulated collar brim for maximum heat retention.
4 exterior pockets.
Built-in modern fashion-forward design for the perfect current trim look!
Invest in a Windproof Hooded Parka Faux Down Coat today!