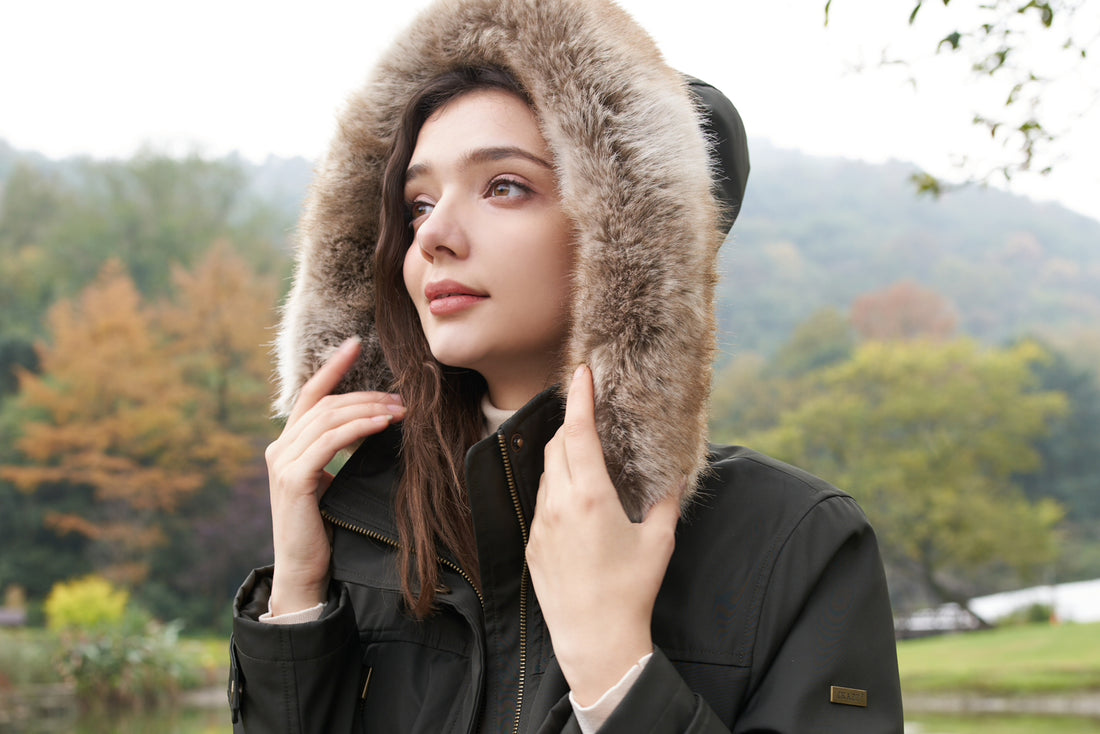 How to choose a Hooded Parka Faux Down Coat
Most of the world spent last winter in lockdown as a result of the covid pandemic, so, we looking to spending most of this winter outdoors experiencing all the fun winter activities we missed out on. For any outdoor winter activity, you will have to be warm to have any fun, therefore it's important to invest in a hooded parka faux down coat today.
 A quality parka coat will keep the wet snow and howling cold wind away. You will be able to attend that outdoor festive, shovel your driveway, wait for the bus at a bus stop or just walk to the library or the store, without being miserably cold! 
The hooded parka faux down coat is designed and built with different types of insulation from lightweight insulated(perfect for people living in warmer places) to heavyweight insulation(for extremely cold regions). There are a variety of winter coats in the market, which makes the process of identifying the right coat for you a little confusing.
How to identify the right hooded parka faux down coat for you? 
Different places different climates.
Before you start the search for a winter coat, first research on how cold winter is where you are or intended to travel to. Different places around the globe experience different temperatures during the winter.
Temperate climate – if you live in a place where winter temperatures are mild and relatively warm, a simple basic parka coat will be enough to keep you warm. the coat should not have too much Insulation, if it does you might end up always overheating and sweaty which can be very uncomfortable.
Cold, snowy winters – if you live in a place when temperatures dig into single digits and below in the winter, then you will have to invest in a hooded parka faux down coat. The coat must have a waterproof, windproof, and water-resistant shell, have heavy insulation, a hood with faux fur to keep you extra warm is recommended. 
Type of insulation.
There are a variety of insulation materials used in a different winter coats. They affect the price of the coat. These insulation materials are :
Down insulation – this type of insulation is made up of goose and other animal feathers. It's very light, able to remain warmer by trapping warm air in it to provide the best insulation, and very comfortable to wear. Easy to pack.
Down insulated parka coats cost more. Lose their heating ability once wet and take a while to dry.
Synthetic fill – this material is made up of synthetic fibers made from polyester used to create similar insulating properties of down insulation. It's cheaper.
Synthetic fill is heavier compared to down insulation, however, it can retain warmth even when wet and is easy to keep and maintain.
Uses natural wool from sheep for insulation, hence breathable and a great choice for someone who looking to engage in activities that result in the body generating lots of warmth like hiking.
This type of insulation is less effective at keeping you warm compared to down and synthetic insulations. 
Why choose a hooded parka coat?
A hooded winter coat has several benefits, including :
Extra insulation – a hood will provide you with extra insulation you will be able to keep your head and neck warm.
Heating efficiency – a hood will ensure you can cover your head and neck hence, reducing the place for the generate warmth to escape.
The weight difference between a hooded and a coat without a hood is negligible.
If your goal is to remain warm no matter the weather in the winter then a hooded parka faux down coat is an easy choice.
Features checklist.
Here are a few additional features to be on the lookout for :
The coat collar – can you fasten the collar? is it insulated?
Sleeves – check whether they are insulated? Are they built to cinch your wrists to keep out the cold?
The zippers – are they heavy-duty or is it 2-way?
The pockets – where are the pockets places? How many are they? Do they have hand warmers? Check for inside pockets for your phone! (imagine how disappointed you would be if you bought a winter coat only to find there are no inner pockets or they are too small for your phone?)
Coat fit and length – check that the coat fits well on your shoulders and the length as per your desired length.
Hood – check whether the faux fur is detachable? Insulated? Is the hood detachable?
Why should invest in the IKAZZ hooded parka faux down coat?
Made with a Water-resistant and windproof shell.
Front zipper closure.
Flexible insulate collar.
Elasticized cuffs to keep cold air out.
Detachable faux fur trim for easy appearance customization.
Slimming design gives the coat a modern trendy appearance.
2 extra deep pockets.
The hooded parka faux down coat is designed for maximum warmth retention, easy mobility for unrivaled comfort!