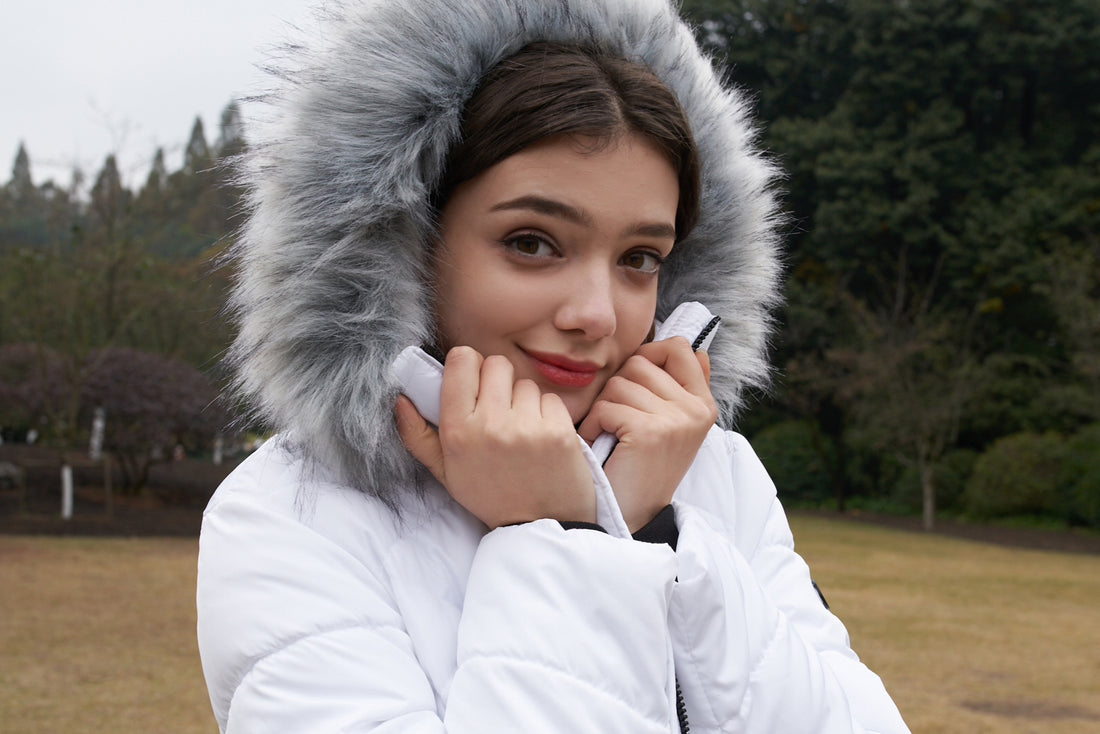 What you need to know to choose faux down coat in winter
Changes in the weather have become more prevalent. We are today, experiencing hotter summers and record-breaking low temperatures in the winter. As an easy example: in February 2021 temperatures fell to record low temperatures of -2 ˚F(-19 ˚C) in Dallas Texas(lowest recorded temperatures in over 72 years). As winter fast approaches it's important to invest in a quality winter coat to keep you warm!
what is a faux-down winter coat?
Invest in a faux down coat is one of the best choices you can make. Human beings have been using animal fur to keep their bodies warm since pre-historic days. Today, we have evolved and invented more efficient means to keep our bodies warm in the winter without having to kill animals for their fur.
One of the most effective ways is the use of faux fur – this fake fur made from polyester, that provides most of the warmth properties of fur at a cheaper price. Buying a faux down coat is an easy way to keep warm this winter, however, picking the right faux coat today has become a confusing task because of the many varieties available in the market and confusing industry-invented jargon.
Here is a complete guide to help you choose the right faux down coat:-
The guide: tips.
what are your needs?
Understanding your needs clearly will easily clear 50% of the hustle of picking a faux down coat.
Ask the following questions to help you narrow down to what you are looking for :
How active are you? Because you need a different coat while going out on a run compared to just walk-in on a snowy day.
Do you spend most of your day seated or walking?
How cold do you expect it to get?
Are you going to visit a colder or warmer region this winter? If you going skiing?
Will you be indoors or outdoors? 
How often do you read the label on any piece of clothing you buy? While shopping for a faux down coat, we recommend you get in the habit of checking the coat's labels. Don't just feel the fabrics and fit and buy! The coat is only as good as the quality of its fabrics. In most cases today you will find a faux down coat advertised as 100% wool, however, you find most are made using cheap acrylic, nylon, and spandex and only contain very little wool. 
Insulation is important especially for people who experience extremely cold winters. Any faux down coat is only as warm as its insulation ability to retain your body warm.
Check the fit and length.
Most faux down coats range from: short, mid, long. If you are in a colder place get a coat that covers at least up to your hip area. I know oversize coats are very trendy right now, however, fit and confirm the coat allows you easy mobility. If you can easily move or seat comfortably while you have the coat on this would affect your quality of life and there is a good chance that coat will spend more time in the closet.
Additions features.
One of the most overlooked coat features is pockets! Before you purchase any coat check if the coats have enough pockets and are strategically placed to meet your daily storage needs.
What should you check in a coated label?
The fit. – check if the coat is small, medium, or large.
Weight. – there are lightweight(ideal for warmer places) and heavyweight(ideal for colder regions) coats
Zip closure. – check for a front zip closure.
Shell and lining fabric. – here is an example: - shell, lining, and hood : polyester: faux-fur trim; modacrylic/acrylic; fill: down/waterfowl feathers.
Whether machine washable or dry cleaning.
Whether the coat is water-resistant.
Whether the coat is windproof.
The length of the coat.
Check the number of pockets, their location, and whether they have zippers.
Check whether the hood is detachable
Type of collar and hood: example – shawl collar and hood with faux-fur trim; zipper closure at front with button overlay.
so, what faux down coat should you buy?
We recommend the IKAZZ women's winter lengthening faux down coat, designed and built for maximum comfort, its shell is both water-resistant and windproof, hooded with a detachable faux fur trim hood that does not shed ever! The IKAZZ women's winter lengthening faux down coat has so many good reviews and is reasonably priced.
Invest in one today to keep the cold away!
Note: suffering in the winter does just mean wearing a winter that is not warm enough, also if the coat makes you sweat too much – you will be very uncomfortable. Follow all the recommendations in this guide to avoid been too cold or too warm this winter!