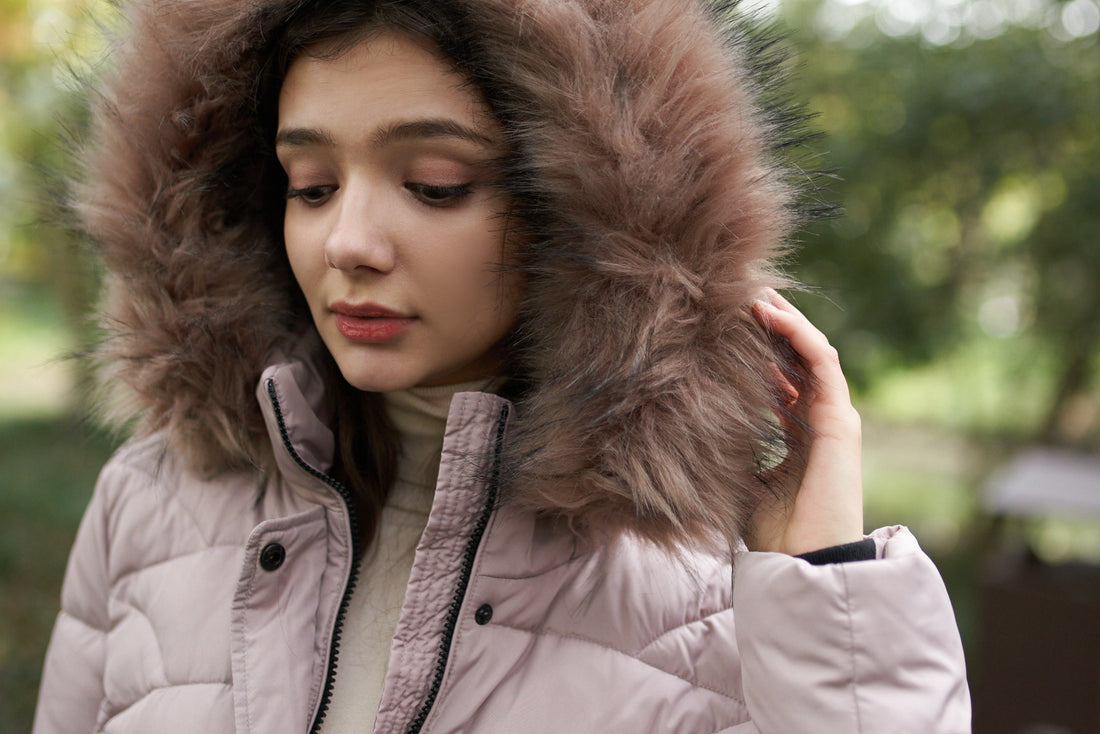 It is comfortable to wear a faux down winter coat
How to pick out comfortable women's winter coat?
When shopping for a woman's winter coat it is important to remember that comfort should always supersede trendy fashion style. This does not mean you can look good and be comfortable at the same time.
Your appearance remains the first impression you make on people. In the summer – your sundress, pants, or jacket are the first clothes people notice about you. The winter your winter coat is the first impression people see, so why not make it perfect!
Understand the purpose.
it's always great to know where you will wear your winter coat at. If it is out for an event, know whether the event is outdoor or indoors. Know whether you will be walking in the coat or sitting while wearing the coat. If it's outdoors, what kind of outdoor activities will you be engaged in.
This will greatly help you narrow down on which types and colors of women's winter coats to invest in.
What are the parts of a coat and Understand the coat materials?
Any winter coat is made up of these three parts :
This is the outermost part of any winter coat. This is the last line of defense and also where color and design style can be seen.  There are 2 main features to look out for in the shell:
Water-resistant. – for water-resistant coats, the fabric is treated with a coating to make it water-resistant. This improves durability in wet conditions because rain or any moisture is not absorbed into the coat.
Waterproof – for a fabric to be classified as waterproof it has to have a hydrostatic head rating of above 1500mm. A hydrostatic head test a piece of fabric is pulled in a sealed tube of water then observed over some time to identify how many millimeters of water the fabric can withstand before absorbing water. The higher the hydrostatic rating the more waterproof the fabric is.
Breathability – breathable fabrics allow tiny molecules of moisture to escape. Highly breathable fabrics are more comfortable in warmer seasons.
This is the innermost fabric layer that is in direct contact with your skin. The lining of your coat has to be soft and made from a breathable fabric to avoid chafe or irritation for maximum comfort. Most winter coat linings are made from silk, satin, or polyester, and at times they can be a mixture.
This is the middle part of the winter coat. It is responsible for almost 80% of keeping you warm. The insulation part of the coat can range from polyester for heavy insulation to lighter insulation – down and synthetic insulation.
Down insulation – this type of insulation uses soft under feathers from a duck or geese. These make effective insulation because it creates thousands of tiny air pockets which trap warm air and retain heat.
Down insulation is very effective at keeping you warm, light, and comfortable to wear, however will lose its insulation ability when wet, takes too long to dry, and is expensive.
Synthetic insulation – this type of insulation uses polyester fibers to mimic down insulation properties. It is waterproof, hence, maintains its insulating ability even when wet. It's also cheaper and easy to clean compared to down insulation

winter coats

, However, they are heavier.
 Get the perfect cut and style.
There are a lot of designer winter coats in the market with different cuts and styles. the cut and style you choose are determined by your fashion taste and preference. You can either choose: single/double-breasted wool coat, kneel or long size coat, duffel or pea coats, or fitting or oversize coats -your choice!
Pick a winter coat color and design that compliments your style and accessories.
 What are the winter coat trends for 2021?
After the lockdowns of 2020, fashion runways and most mainstream fashion shows had disappeared but they did not stop the designer from working on new designs. A winter coat remains a reflection of your fashion style just as your shoes, hands bag, and clothes. Here are some of the trendy winter coat feature to keep up with fashion trends:
Fabrics – mohair and wool are back in trend, while fur and faux fur(especially short fur) remain as popular as ever with high-end women's winter coats. Shop for the latest faux women's winter coat
Colors – white remains king! While white is not the easiest color to take care of or keep clean but, a

white women's winter coat

remains stylish and pure chic! Other colors to look out for this winter are brown, black, turquoise, silver, and multicolored for that pop urban look.
Shape and size – oversize coats are dominating the trend, especially puffy one-colored coats. may either come in solid black, silver, green, pink you will see some oversized checked or quilted coats this winter.
Be on the lookout as the fashion world is ever in motion.