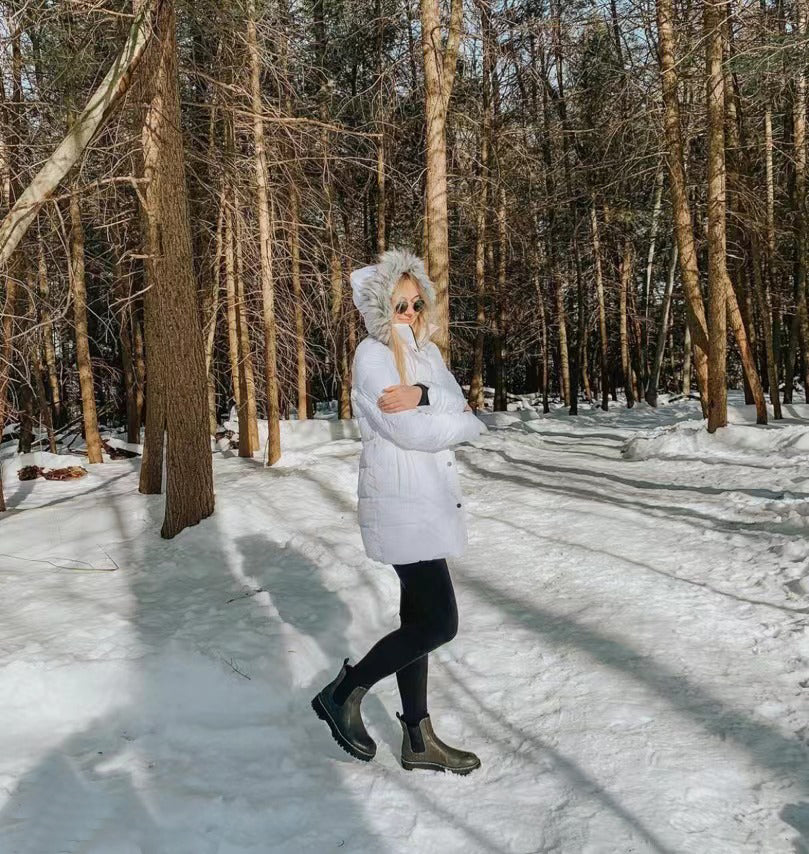 Let IKAZZ help you Choose "The Right Puffer Coat &Jacket for your body"
"Different us, different body"
No single one of us have same bodies, we all have different heights, different weights, different tops and bottoms which means we have different needs, choices and preferences on winter jackets matching. But first thing is to figure out what body shapes do we exactly have. Normally, women' s body shapes can be divided into 12 categories. They include: The Apple, The Straight, The Pear, The Spoon, The Diamond, The Inverted Triangle, The Oval, The Hourglass, The Bottom Hourglass, The Skinny, The Athletic, The Lollipop. And the normal body shapes are The Apple, The Straight, The Pear and The Inverted Triangle.
How to make right decision based on your real conditions? How to hide your disadvantages and reveal your advantages?
Let IKAZZ to help you, as a professional winter jackets maker, we started with collecting the needs and opinions of different customers, and identify different body types, compared all solutions and designed a series of collections that are suitable for the majority of women. Still, different types of bodies require different types of puffer coats, especially in winter, we do not want wrap ourselves in a bulky down clothes. How can we balance beauty and warmth? Most importantly, we need consider women's different bodies, here are some true stories we collected from our purchased customers. Now shall we look? Please read below.
"Chicago—The Pear-shaped body"
A 39 -years-old woman with pear-shaped body, Chicago, USA, who claims to have a normal bust and waist but is somehow overweight in the lower parts of the body (plump shape figure). She complains about not able to find a winter jacket that fits her pear-shaped body.
Nowadays, the modern aesthetic tends to favor thin body, so modern designers incline to design slim jackets. It explains why she has never found a major brand jacket that fits her figure. She added that she like buying jackets from online stores. But she couldn't find an appropriate one, she stuck in choosing right size for herself. After purchased online from
IKAZZ official website
, she said our jacket was not only served its function, but also meet her special need. She need a jacket with relatively loose botton which modify her botton part of figure, meanwhile, it also need to fit well around her top. She picked one of our
classic winter jackets
with a loose open hem with an adjustable drawstring and tighter top.
We asked her about feedback and she said "I think the perfect point for me of this jacket is the tightness. It's just right, and designed elaborately, the loose hem and tight top make my body feel more comfortable, it unbeatable, I definitely will buy it again!"
Increasingly people living in a sedentary life, we may have sorts of body shame, weight problem, body confusion, etc. So we have different collections, loose type, tight type, combined type, to meet different body shapes. And our coats are made of THERMOLITE® (THERMOLITE® Brand | Sustainable Insulations & Warming Fibers) insulation materials that provides the endless warmth you need without sacrificing your comfort and style.   
Let's look another story.
"New York —The Hourglass-Shaped body"
Another woman from New York, USA, claims to have a bottom hourglass figure. The woman says that she is a plus-size model from New York endowed with a plus-size body. She claims to be 5'8'' tall and weigh about 180 with large hips and bust. The lady said she knows her body features well, she needs a coat that can showcases her body curves without bulk. She doesn't want a floppy and loose one. Those that are nicely tailored for her body are expensive and unaffordable. As a model, she needs a proper coat that can match different bottoms as much as possible. At the same time, in high quality and a reasonable price. "It's been a huge conundrum for me over these years!"
She knows IKAZZ from one of her friend, it did not attract her at first because the shipping. But the thing is she did satisfied about our jackets after finally made up her mind. What she liked most is our V-quilting puffer jacket, which is unique and done in great details, allowing her to display her body curve. The relatively hard surface which fastening the inside polyester fabric, as she said, "this jacket can overfill my chest and covers my hips without making them look too big, and of course ,within the moderate tightness. I also like the detachable hood gives me security when walk under the snowing days.''
"Los Angeles—The Inverted triangle-shaped body"
A young woman who is a manager director from Los Angeles, she usually wears official suit and dresses in office. She hated that  because the center of her body is more obvious in the upper and it is obvious that her upper body accounts for a relatively large proportion, presenting a top-heavy image. Suits always make her upper body look much wider. She said a nice-tailored mid-length wool coat may give her a confidence booster given its straight version. That's why she has chosen IKAZZ.
"I'm very pragmatic about my clothes, so I never buy fancy but useless one, and I prefer work clothes, I bought a classic wool coat from IKAZZ years ago, it looks plain and simple without much decoration, a perfect work jacket for me, but the coat has an very open collar, kind of a V-neck, that trims my shoulders, which I love it. There are a asymmetric inclined zipper design, so it won't look too tight as well. About the length, I guess for me, it's perfect, I like wearing high-heels and jeans. It perfectly reveals my thinner legs."
Speaking to V-neck, V-shaped clothes can divide the shoulders into three parts, and make the neck look slender. And clothes with a small neckline will wrap the entire upper body. That's the highlight of this wool coat. She was even picky about the material of a wool coat. IKAZZ is different from others by using Pressed Boucle which is made of high-quality wool and polyester blends. It's resilient and firm. It may feel a little bit heavy, but the point is you won't feel trapped by clothes.
"Mid-aged—The apple-shaped body"
Millions of mid-aged women are suffering from body problems and their problem mainly caused by their apple-shaped body. As aging, our body are increasingly gathering fat and our metabolism is diminishing. Those who fit and slender above 40 seems to be the person who must spend all day in gym. Is there anything we can do on our clothes? Can we put more effect on our matching?
Certainly yes. The main characteristics of an apple-shaped body are: broad shoulders, large chest, a small belly, and slender limbs. A simple summary is that the upper body is round and the lower body is slender. And I know many women will choose to wear loose clothes as much as possible because that can hide their body, and it's quite normal in winter season. They just keep putting on clothes, please avoid that. Clothes that are too slim also need to be avoided. They will completely outline the layers of fat, lose the beauty of the outfit, and expose the shortcomings of obesity. Therefore, the selection of clothing version is mainly based on fit.
For example, the straight version is good, not too wide or tight, there is no sense of restraint when wearing it, and it can also have the effect of covering the flesh. I highly recommend you to try Wool coats. You need straight version to straighten your plump body. The magical thing is this coat will turn your apple-shaped body into straight-banana-shaped one!
—"Matching tips for you from IKAZZ."
A long coat will accentuate your curves by hiding them at the same time. If you're wearing a long coat, choose one that reaches to just above your knees or slightly below it. It's also important to get one that's slim on top but flares out around the bottom so it doesn't make you look like a triangle sticking straight out from your body.
If you want something with more structure, go for a blazer or structured coat instead of a cardigan or lightweight jacket. These will make sure everything stays in place and doesn't look sloppy when you move around.
If you want something more casual, try an oversized sweater paired with jeans and boots instead of going for a blazer or structured coat. The oversized sweater will give off an overall slouchy vibe while still maintaining a feminine.
First of all, you can try a winter jacket with a waist design which can directly modify your proportions and directly showcase your waist curve. For example, when a slightly fat girl is matched with a down jacket, it is easy to cause a bloated feeling. Combined with a waist or a belt to reflect your waistline, you can naturally lose 20 pounds visually.
For pear-shaped body,the use of elastic collocation is particularly effective, choosing a tight top and loose bottom. So the relatively thin upper body is highlighted, and the relatively meaty lower body is covered up. A slim top and loose pants or skirt will soften the curves of your legs.
For apple-shaped body, whether tops or bottoms, the tight-fitting design is easy to expose flaws in apple's figure. The shortcomings of women with an apple-shaped body are basically concentrated on the upper body, so the choice of clothing should not be too exaggerated and fancy, and try to focus on simple shapes, so as not to increase the visual burden on the upper body. Recommended suit jackets, that is, all kinds of woolen coats, also straight down jackets and cotton coats.
For hourglass-shaped women, V-neck tops, big necklines, tight tops, hip-hugging skirts and skinny pants are all great. V-neck tops and shirts with large necklines make the bust and neck look slimmer, making the entire body look slimmer.

For invertedtriangle-shaped body, in order to weaken the shoulder width, the easiest way to add vertical visual factors  is to guide people's eyes, which can break the limitation of shoulder width of a person. For example, You can modify the line of the shoulders and divert the attention by properly revealing the skin. V-neck clothing is a good choice, which can not only make you look thinner, elongated the neck but also make you a little sexy.
—"IKAZZ Support Your Fashion."
As you can see, we always value individuality, uniqueness, we think every person has different need, preference even requirement, especially women. In fact, we are beyond thrilled to receive any comment and opinion from our customers—we like to look at that as a chance, for us to learn and get better. As a brand committed to women's design and fashion, we never lose touch with modern aesthetic, we seek more chic style and fashion combination, plus, we own independent designer that provide us original and creative patterns and styles. As we all know, the clothes market has become very dynamic, and we are on the lookout for new, exciting finds always. We know you well and we know women well. We won't claim ourselves as leader of fashion industry but we are definitely ally who support your choice and meet your desire.
Like I said, fashion is not something highly luxurious, and fancy, it's actually something quite simple, like I mentioned before, what women need are a piece of clothes which give them confidence and coziness, just fit their bodies. That's their fashions, so we could say fashion means something fit yourself, something can present you and make you shine. And we are here to help you find your fashions, we are here to give women their own fashions. We are also hoping you can join us, give us your perspective, ideas about women fashion I mean, different fashion.
Thank you so much for reading! If you want know more about IKAZZ, Please click website below.