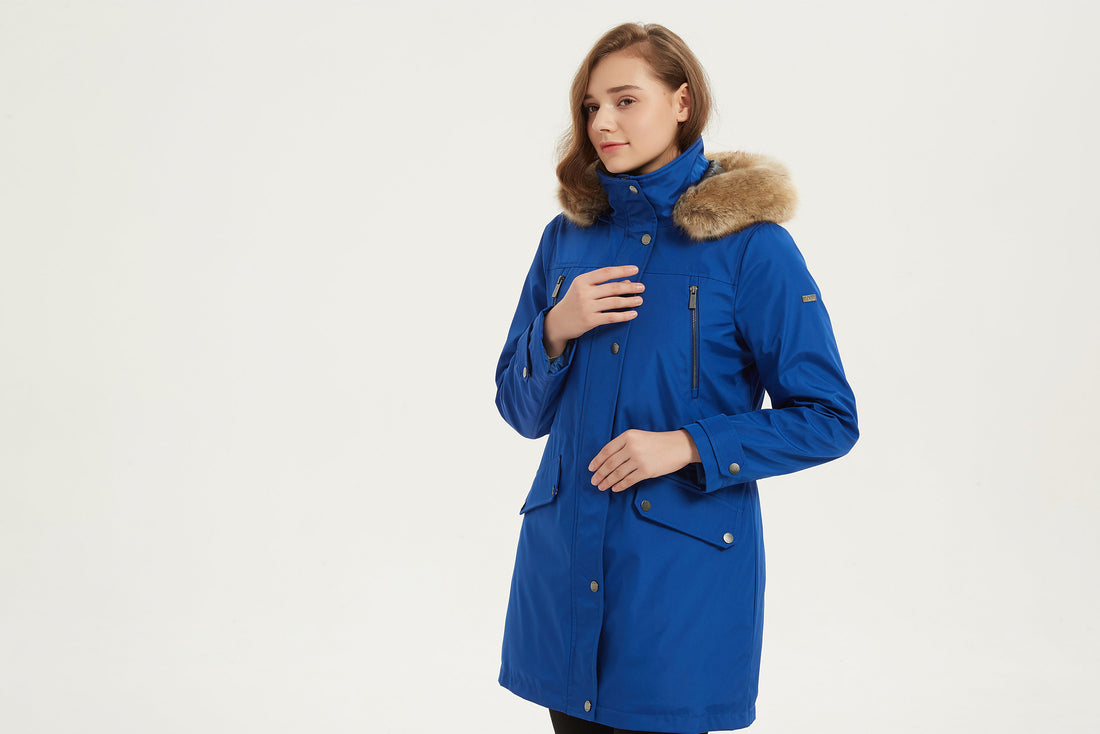 Outdoor Jackets For Women
When searching for the best outdoor jacket for women, it is vital to consider the activity you'll be using it for and the climate or weather you'll wear it in. For instance, a Munro bagger in the highlands requires an outdoor jacket that is waterproof and tough to withstand cold temperatures and wet weather. 
On the other hand, if you wish to trail run during summer, you require an outdoor jacket that is light and packable but water-resistant to keep any rain out. Additionally, before purchasing an outdoor jacket for women, ensure that you assess aspects such as durability, weight, breathability, and the level of water protection it offers.  
There are different types of outdoor jackets to consider- most of which are waterproof. Women's waterproof outdoor jackets are either wax-proofed, PU coated, or membrane-lined to keep out water. Besides offering a high water-resistant level, membrane-lined outdoor jackets are more popular since they provide adequate breathability. Below are our top picks of the best outdoor jackets for women with a cozy range of durable options for cold and warm weather. 
CimAlp Performance 3F Jacket
Besides being practical and high-performing, the CimAlp Performance 3F Jacket is versatile and offers great value for everyday hiking or outdoor use. This outwear employs a one-of-a-kind, state-of-the-art technology that includes three layers of Hard-shell, a waterproof and breathable membrane, and a wind-resistant nylon face fabric.
Additionally, this outwear features an eco-friendly construction that employs bluesign-certified manufacturing, organic dyeing, and a DWR Teflon made from renewable resources, thus making it PFC-free. With the three-layer fabric, the jacket is sustainable and comfortable with a next-to-skin feel. Moreover, compared to other lighter 2.5-layer jackets, this women's coat bears a nice finishing that makes it more durable.
Expect to see additional features such as ventilation zips, waterproof zippers, two inside pockets, an adjustable hem and hood, and two handwarmer pockets in the jacket. You will also love the adjustable cuffs that can stretch for a tighter fit during chilly weather.
Berghaus Changste Outdoor Jacket
This is a unique jacket since it includes three different Gore-Tex fabrics. As such, it offers an extremely protective, functional, and technical service to its wearers. Moreover, the Berghaus Changste Jacket features a 2-way zip, arm articulation, helmet-compatible hood, and essential pocket options. Moreover, it is almost impossible to get clammy with the jacket since its vents are cleverly tucked away. 
More interestingly, however, is the jacket's lightweight nature, which is otherwise suited to cope with heavy rains and harsh weather. Lastly, in addition to the stretchable cuffs, the outdoor jacket for women is made from highly breathable fabric. 
Halti Next Generation DryMaxx Shell
This jacket is recommended for women who wish for a well-made and good-looking outdoor jacket for all-season hillwalking and countryside rambles. Besides being fully recyclable, Halti's Next Generation shell-a Finnish brand- is made from PFC-free materials that the user can repair. Moreover, the jacket is a very sustainable outwear since it features zips, panels, and tabs that are easy to replace whenever they wear out. 
In addition to a longer hem and a hem drawcord, the jacket includes an adjustable hoof and Velcro cuff tabs that deliver plenty of coverage in wet and harsh climates. Lastly, it features a main zip with double storm flaps that thwart leaks.
Columbia OutDry Ex Reign
A key attribute with the Columbia OutDry Ex Reign lies in its ingenious water-resistance technology and eco-friendliness. What else could you expect from the lightest and latest jacket in Columbia's OutDry series of outdoor jackets? Typically, most jackets feature a waterproof membrane sandwiched between the inner and outer layers. However, in this case, the Columbia OutDry Ex Reign jacket features a tailored water-resistant membrane on the outside. As a result, getting rid of the outer layer of fabric eliminates the risk of the waterproof membrane losing its breathability whenever the jacket's shell wets out.  
Similarly, besides being environmental-friendly, the jacket offers excellent weather protection with equal ventilation potential. 
Patagonia Dual Aspect
Patagonia's latest Dual Aspect jacket employs a three-layer H2No Standard Performance fabric. It features a slick jersey bracket with a fully recycled nylon ripstop face, making it an eco-friendly option. Moreover, besides offering a high level of breathability, it includes a PU-based membrane that is waterproof. It also has a PFC-free excellent waterproof finish. Originally sewed in Vietnam, the garment is Fair Trade Certified and manufactured by companies that meet high ethical standards. 
The jacket features all the details expected in a technical mountain shell, including a 2-way adjustment, a helmet-compatible hood with a reinforced brim and a laminated visor. In addition to a 2-way main zip also features double chest pockets with storm flaps, 2-way ventilation pits, watertight handwarmer pockets, and Velcro Cuffs. Moreover, it has an in-built RECCO avalanche reflector and a hem drawcord.
Patagonia Storm Racer
As its name suggests, the storm racer is designed mainly for those who fancy trail running. However, it is also suited for light or fast hiking trips. In addition to being watertight, it features a tough fabric shell that makes it suitable for outdoor use regardless of the weather conditions. This jacket has been tested and approved for hiking, trail running, and trips. 
The Patagonia Storm Racer stands out due to its unique 2-zipped design. You can throw the jacket over a trail vest, and the zips will allow you to fold down the front collars to facilitate ventilation and makes your hydration flasks easily accessible.
Black Yak Caracu Jacket
While it features a lightweight nature, the Black Yak Caracu jacket is a fully-features mountain shell. Despite its functionality, the garment is easily packable and can be stashed away when not in use. Fortunately, with this outdoor jacket, you needn't have to worry about the weather since it haves you covered, whether it is a drizzle or a heavy downpour. The jacket-typical outdoor all-rounder for women- features a completely versatile shell that enables three-season trekking, climbing, hiking, and mountaineering. 
In addition, it includes a watertight membrane and a breathable Gore-Tex fabric that works well in dry, cold conditions as well as trekking in a hot and humid climate. Other pro features include a 3-point adjustment hood that is helmet-compatible. Moreover, its laminated hood brim prevents rainwater from dripping onto your face and -way pit zips that facilitate fast dump heating.