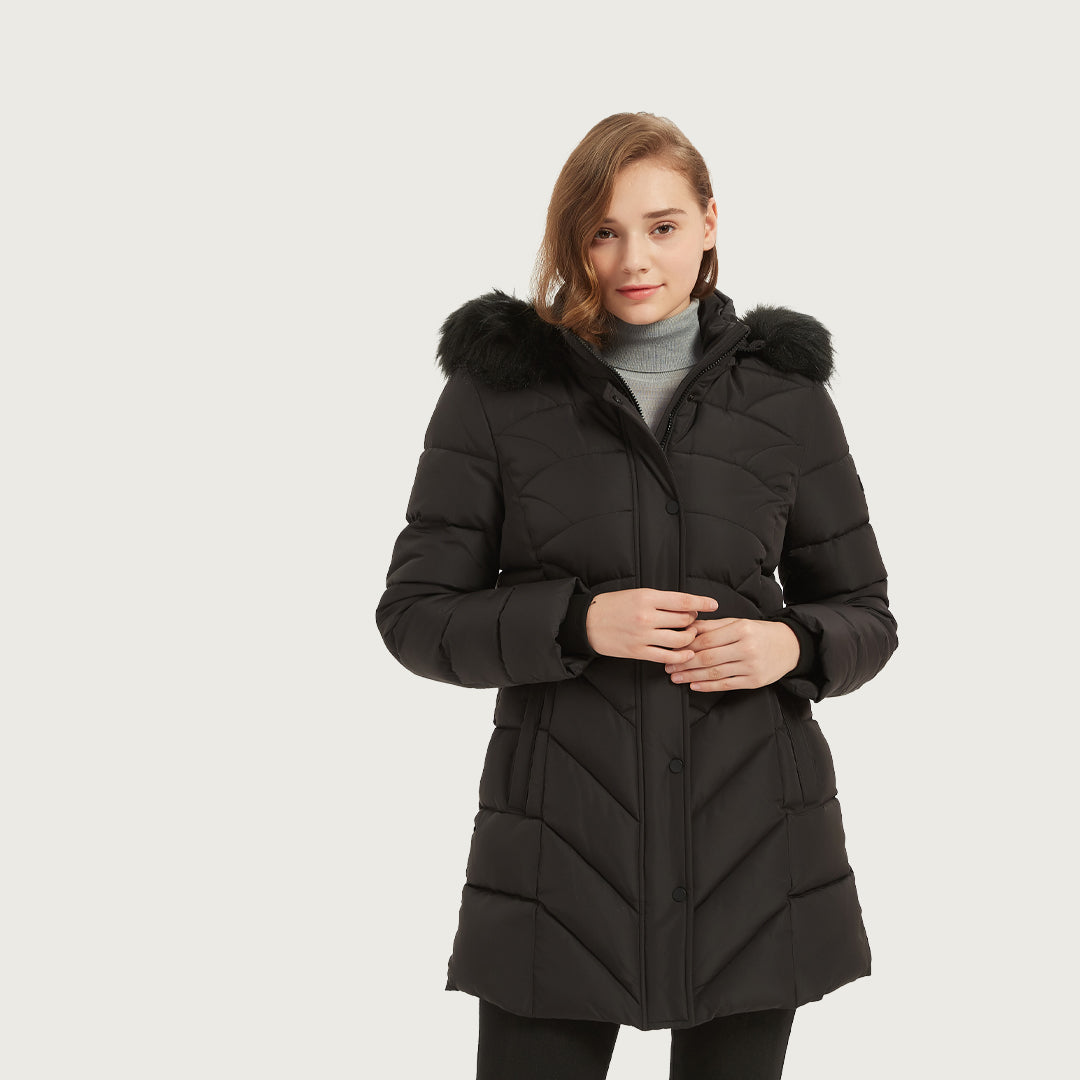 Stay Warm and Cozy with IKAZZ's Women's Black Puffer Jacket
Hello there! We are IKAZZ, and we are excited to introduce our women's black puffer jacket. As the temperatures drop, staying warm and cozy is a top priority for many of us, but we believe it shouldn't come at the cost of our planet or animals. That's why our puffer jacket is not only stylish and comfortable but also environmentally friendly and animal-free.
Exquisite design
First and foremost, let's talk about the design. Our women's black puffer jacket features a drop hood that adds an extra layer of protection from the cold while giving a unique look. The inside of the hood is designed with a stand collar that serves to effectively protect against strong winds and maintain warmth. This feature not only enhances the overall functionality of the garment, but also adds an extra layer of comfort for the wearer during colder weather conditions. It has a full-length two-way front zipper, which allows for easy wear, and the ribbed cuffs and hem provide a snug fit to keep you warm. The jacket is made from a durable water-repellent fabric that ensures you stay dry in light rain and snow.
Animal-free
We understand that fashion doesn't have to come at the expense of our planet. That's why our women's black puffer jacket is filled with recycled polyester fibers that keep you just as warm as down, without harming any animals in the process. By using recycled materials, we are also reducing waste that would otherwise end up in landfills, further contributing to our commitment to environmental sustainability.
About THERMOLIFE
But our commitment to the environment doesn't stop there. The fabric used in our women's black puffer jacket is THERMOLITE®, which is an innovative type of fiber that boasts impressive durability and exceptional warmth while remaining incredibly lightweight. Its unique 3D hollow structure allows for high filling power and resilience, providing unparalleled comfort and performance. Additionally, THERMOLITE® has the added benefit of being able to quickly dry when it comes into contact with water, further enhancing its overall comfort level.
Conclusion
In conclusion, our women's black puffer jacket is the perfect addition to your winter wardrobe. Not only will you stay warm and cozy, but you can feel good knowing that you're contributing to a better world by choosing environmentally friendly and animal-free clothing. Join us in our mission to make sustainable fashion accessible and stylish for everyone.