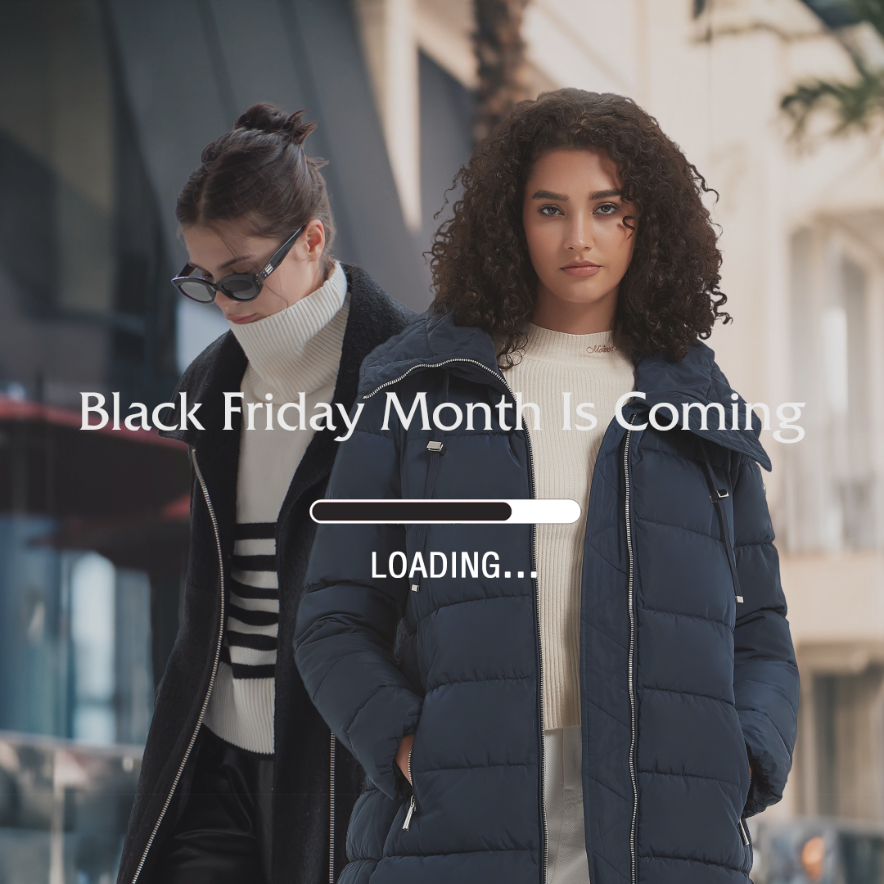 Black Friday 2023: How to Choose a Vegan Puffer Jacket Goes With Everything?
As winter approaches, the anticipation of cozy evenings and festive gatherings grows, prompting many to prepare for the annual shopping extravaganza known as Black Friday. In the myriad of choices, selecting a classic piece that effortlessly complements various styles and occasions, especially finding a comfortable and fashionable vegan puffer jacket in the chilly winter, can be a challenge.
How to Pick a Vegan Puffer Jacket?
Picking a vegan puffer jacket involves carefully considering both functionality and ethical choices.  Here are three key factors to keep in mind when choosing:
Try a Waterproof Hooded Puffer Jacket
Opting for a waterproof hooded vegan puffer jacket adds a functional element to your choice. The hood provides extra warmth and shields you from wind and snow during colder months. Waterproof and windproof features enhance the jacket's versatility, making it suitable for various weather conditions.
Choosing Eco-Friendly Materials
When choosing a vegan puffer jacket, prioritize sustainable clothing materials that align with sustainability. Look for options from eco-friendly recycled polyester or synthetic insulation derived from sustainable sources. Ensure the jacket's production adheres to ethical and environmentally conscious practices, contributing to a more responsible and cruelty-free fashion industry.
Considera Neutral Color and Simple Pattern
Consider a vegan puffer jacket with a neutral color palette to maximize versatility. Classic shades like white, black, red, grey, or navy pair well with various outfits and provide a timeless and chic aesthetic.
Vegan Puffer Jackets: Care You and the Planet
If you're searching for a vegan puffer jacket that seamlessly combines functionality and style, IKAZZ's Melena Long Puffer Coat with Drop Hood and Gianne Packable Lightweight Puffer Coat with Hood are excellent choices.
Melena- Long Puffer Coat with Drop Hood
IKAZZ's Long Puffer Coat with drop hood, a chic mid-calf vegan puffer jacket, ensures that the two significant factors of style and eco-friendliness are brought to the forefront of comfort, making it a superior choice for a warm winter down jacket. 
Key Features:
Animal-Free & Versatile:The vegan down jacket uses alternative materials instead of down. The non-detachable windproof hood adds style and weather protection, making it a versatile shield against winter's harshest conditions.
Flattering Fit & Flexible Styling:Tailored with a waist-tightening design for elegance, Melena offers flexible styling with a 2-way zipper for added motion, adapting to varying temperatures.
Luxurious Warmth & Cosy Elegance:Fleece-lined hand pockets and rib-knit cuffs add comfort and texture, ensuring you stay warm in style.
Gianne- Packable Lightweight Puffer Coat with Hood:
Another classic vegan puffer jacket for the winter season is the Packable Lightweight Puffer Coat with hood, a down jacket with a stylish and eco-friendly, portable design. It will continue to keep you warm during outdoor days in winter.
Key Features:
Unmatched Warmth& Compact Design: It offers unprecedented warmth in a mid-length, high-density poly cire shell. Gianne provides ultra-light and packable nature, allowing easy compression and convenient packing into a drawstring bag, making it the perfect on-the-go companion for milder weather.
Versatile Across Environments:This vegan puffer jacket is designed to navigate changing weather effortlessly, featuring a drawstring and removable hood for adaptable protection. It can ensure warmth and fashion in the cold winter and easily cope with winter weather challenges.
Functionality and Eco-friendliness: Prioritizing functionality, this vegan puffer jacket features side zip pockets for secure winter adventure storage. With dual hem zippers, it offers practicality and style. The 2-way zipper enables flexible styling and temperature control. Opt for eco-friendliness with its animal-free composition, making it a conscious choice for warmth and sustainability.
IKAZZ
IKAZZ is a beacon of ethical fashion and a cruelty-free brand that has been weaving warmth into style since its inception in 2014. We are dedicated to providing the puffer parka and coat by giving cruelty-free alternatives without sacrificing warmth or elegance, driven by great regard for animals, the environment, and humanity.
So, don't miss the chance to invest in enduring warmth and fashion-conscious choices – this Black Friday, IKAZZ is your go-to destination for the classic, vegan puffer jacket that will effortlessly stand the test of time.