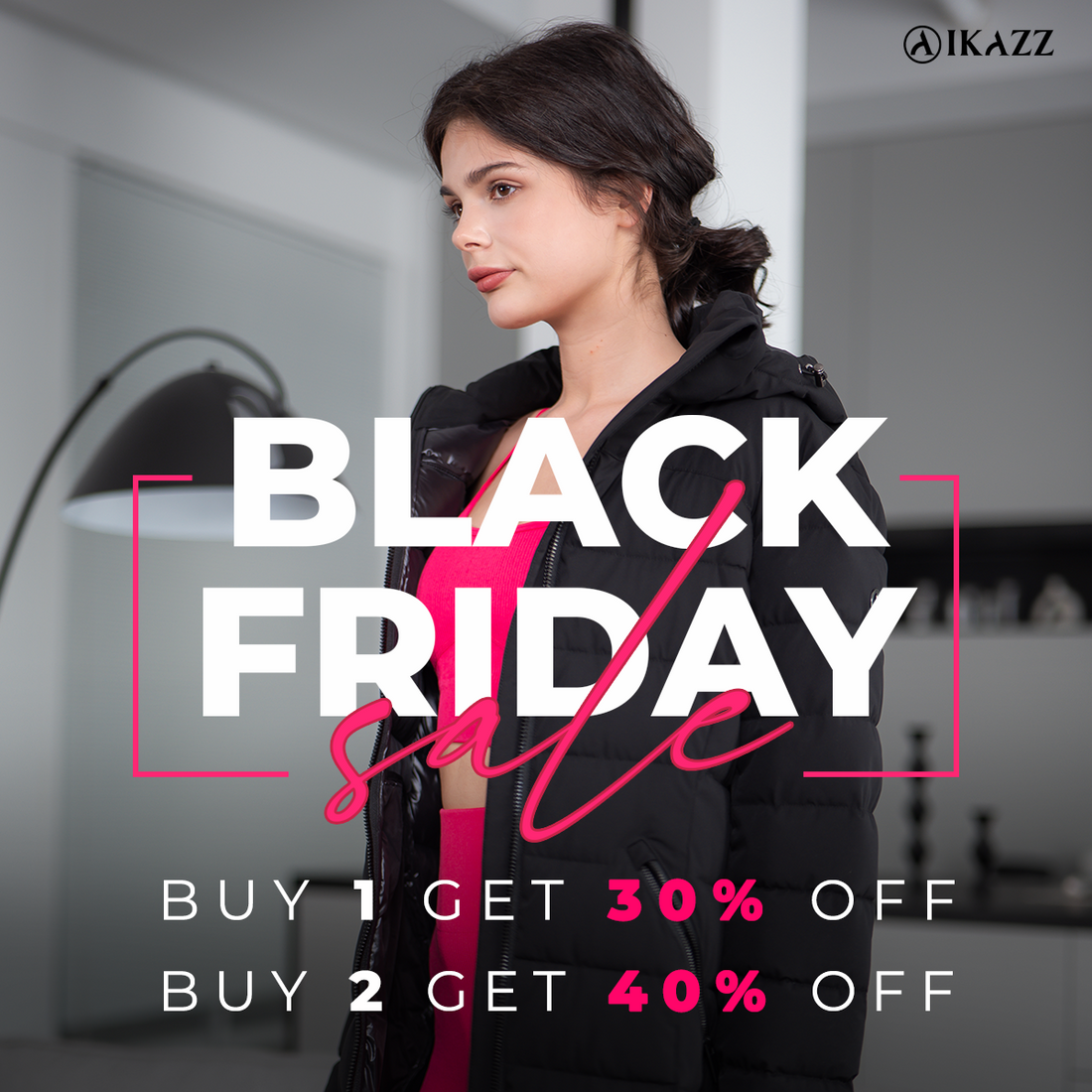 The Ultimate Guide to Black Friday Shopping: IKAZZ Edition
The holiday shopping season is about to kick into high gear, which means it's time to start planning for Black Friday! IKAZZ's Black Friday celebration is currently in full swing, but you might not have imagined that we're cranking up the discounts even more from November 24th to 26th. You can now get considerable discounts on IKAZZ's fashionable winter coat collection - Buy one coat and get a 30% discount, or buy two and get a 40% discount! Continue reading to learn more about the fantastic styles included in this promotion.
Gianne: The Perfect Blend of Style and Versatility
The Gianne coat is the ideal choice for people looking for the perfect blend of design and usefulness in winter apparel. This lightweight puffer coat boasts a simple yet classic design and high-density stretch fabric, creating a mid-length feminine profile. It is made of high-density Polo Cire and THERMOLITE® fibers, which considerably improves insulation. Additionally, its side zip pockets provide ample storage, and the side zip pocket design at the hem improves mobility. The two-way zipper makes it simple to put on and take off.
Gianne's foldable design makes it ideal for travel, allowing it to be stored in your suitcase or closet when not in use. Gianne keeps you comfortable in any environment, from day-to-day activities to weekend trips. Pair it with trousers, ankle boots, joggers, and sneakers for a more casual look. Whatever your style, Gianne is sure to be your winter go-to!
Melena: Embrace the Winter Chill in Elegance
For fashionistas aiming for luxury and refinement this winter, the Melena puffer coat elegantly brings warmth to your wardrobe. This long puffer coat features a sleek and stylish design made from eco-friendly materials without any animal components. The stand collar and waist-cinching design accentuate its fashion-forward appeal. Moreover, the oversized windproof hood, thick wool lining in the pockets, and two-way zipper provide versatility. The wool-lined side pockets provide warmth and utility, making it a must-have unisex item that perfectly combines comfort and taste for the winter season.
Whether paired with a stylish dress for a night out or combined with jeans and a sweater for a casual day look, Melena adds sophistication to every outfit. Its neutral tones blend perfectly into any winter clothing, allowing you to step into winter with elegance and glamour.
Naya: Quilted Comfort with a Touch of Luxury
Finding the proper blend of comfort and style can be difficult, but Naya does it with ease. This puffer coat is made of high-density Poly Cire fabric and Thermolite vegan down filling, completely free of animal components, for an eco-friendly and fashionable choice. The V-shaped quilted design creates a slimming visual effect, and the zipper closure and rib-knit cuffs enhance warmth and comfort.
Whether engaging in sports or enjoying an outdoor winter lunch with friends, Naya's waterproof and windproof fabric provides all-day wind resistance and warmth. This puffer jacket is stylish and highly functional, catering to both comfort and style, making it a perfect choice for both winter travel and daily trips. 
The Black Friday sale at IKAZZ is in full gear, and now is the ideal opportunity to treat yourself to a winter miracle. Our winter coats offer a variety of styles to suit different tastes and occasions. Visit our winter coat collection online to get the perfect winter coat to redefine your winter wardrobe with IKAZZ!