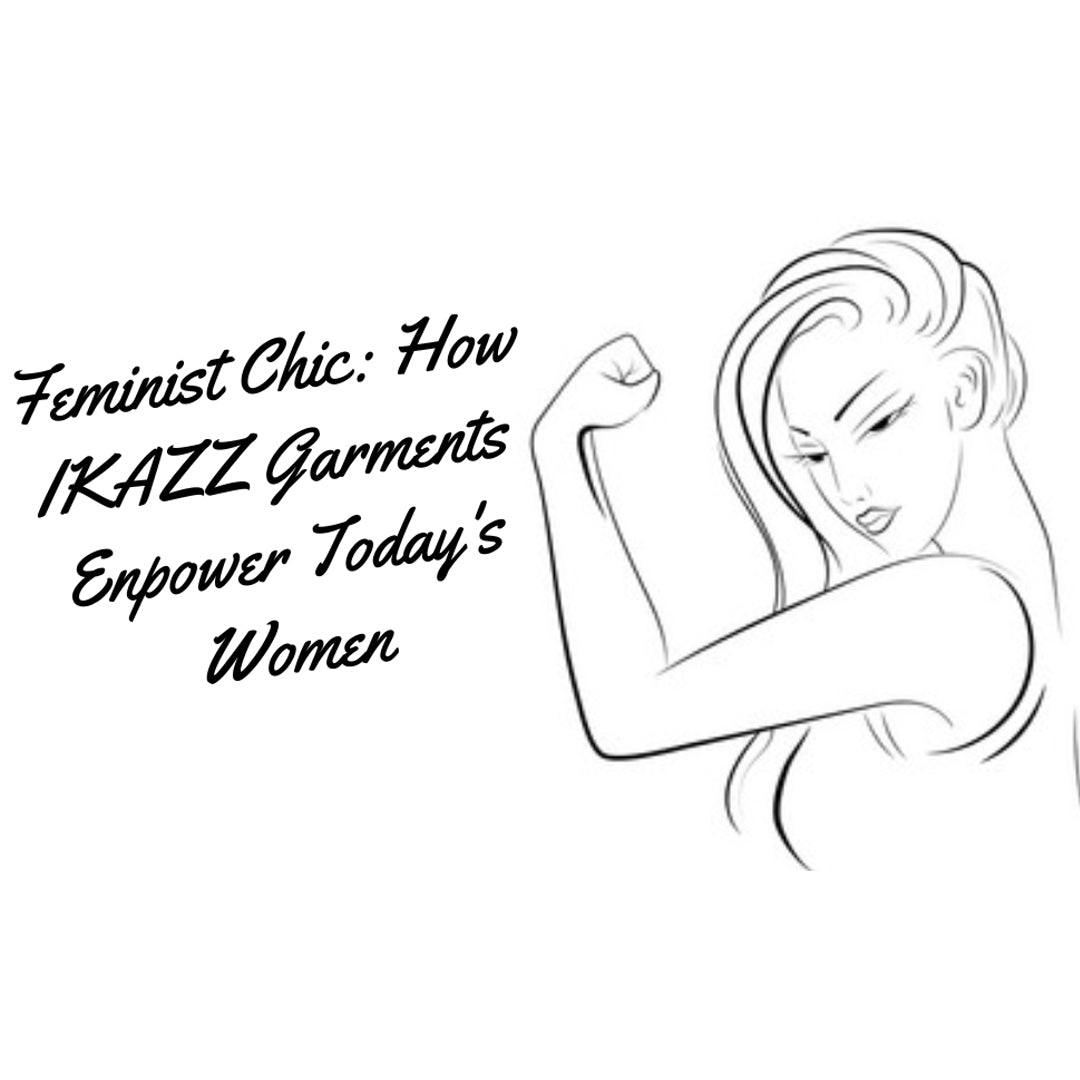 Feminist Chic: How IKAZZ Garments Empower Today's Women
Authenticity is crucial in how we perceive things, especially in psychology and behavior studies. Women can utilize fashion to oppose injustice, confront inequity, and fight for social justice. Our clothing reflects our identity, thoughts, and aspirations.
In the fashion industry, IKAZZ stands out by enhancing the appearance and empowering women while positively impacting the planet. They provide fashion choices that make women look good, feel confident, and be charismatic.
Introduction to IKAZZ and Its Brand Philosophy
Established more than two decades ago, IKAZZ is a renowned fashion brand that consistently places a strong emphasis on the well-being of its female customers and the planet. 
IKAZZ firmly believes that fashion extends beyond mere outward appearances and should encompass self-acceptance, self-confidence, and beauty. Recognizing the empowering nature of fashion, IKAZZ is dedicated to offering the perfect fashion choices that enable women to embrace their authentic selves.
Embracing Authenticity and Self-Acceptance
At the heart of IKAZZ lies a commitment to embracing authenticity. The brand empowers women to shed societal pressures and embrace their true selves without apology. Fashion choices serve as a means for women to express their personalities, style, and preferences.
IKAZZ has emerged as a symbol of strength, self-expression, and empowerment. Each garment, be it the lightweight puffer coat with removable hood and zip pockets or the mid-length puffer coat in a range of colors, is meticulously designed to offer both comfort and style.
IKAZZ Garments: Empowering Women
At IKAZZ, every piece is meticulously crafted to empower women, enabling them to express their unique tastes and make bold statements. 
We are deeply committed to body positivity and inclusivity, recognizing the beauty and worth of all body types. By showcasing diverse body types in our marketing and designs, we challenge the restrictive beauty standards imposed by the fashion industry. Our dedication to promoting body positivity serves as a constant reminder that every woman deserves to feel confident and comfortable in her own skin.
Comfort and functionality are fundamental principles within our fashion philosophy. We understand that clothing should not only be visually appealing but also provide comfort and practicality. Our attention to detail includes functional elements like zip pockets, allowing women to carry their essentials while maintaining a stylish appearance.
At IKAZZ, we embrace diversity not only in body types but also in style choices. Our collections encompass a wide range of styles, sizes, and colors, catering to the diverse tastes and preferences of our customers. For instance, our mid-length puffer coat is available in an array of colors, enabling women to find the perfect shade that complements their individual styles.
Breaking Stereotypes and Inspiring Confidence
IKAZZ transcends traditional fashion design by showcasing real stories of women who have defied societal expectations and found newfound empowerment and confidence through their clothing. One standout piece is the glossy belted puffer jacket featuring a hood. These women's testimonials and narratives serve as powerful reminders of their unstoppable spirit and unwavering confidence whenever they don this jacket.
Promoting Feminist Values Through Sustainability
IKAZZ embodies a brand philosophy deeply rooted in ethical and sustainable fashion, firmly guided by feminist values. With a strong commitment to the well-being of the planet and all living beings, IKAZZ embraces environmentally conscious practices.
Setting ourselves apart, we consciously choose to use natural and animal-free materials, rejecting the exploitation of animals and advocating for a cruelty-free fashion industry. To further our sustainability goals, we introduce innovative materials such as thermolite® poly down and polyester spandex fabric, providing both warmth and comfort while staying true to our feminist principles.
Furthermore, our dedication extends beyond materials to encompass fair labor practices. We prioritize the empowerment and fair treatment of workers throughout our supply chain, ensuring that our commitment to ethical standards remains unwavering.
Conclusion
IKAZZ's core mission revolves around empowering women and fostering self-confidence through fashion. The designs aim to liberate women from societal beauty norms, encouraging them to embrace their authentic selves through originality and self-expression.
With IKAZZ, fashion becomes a catalyst for positive transformation, enabling women to not only look and feel their best but also contribute to a more inclusive and sustainable future.
Embrace your individuality, support ethical fashion, and experience the lasting warmth IKAZZ delivers.