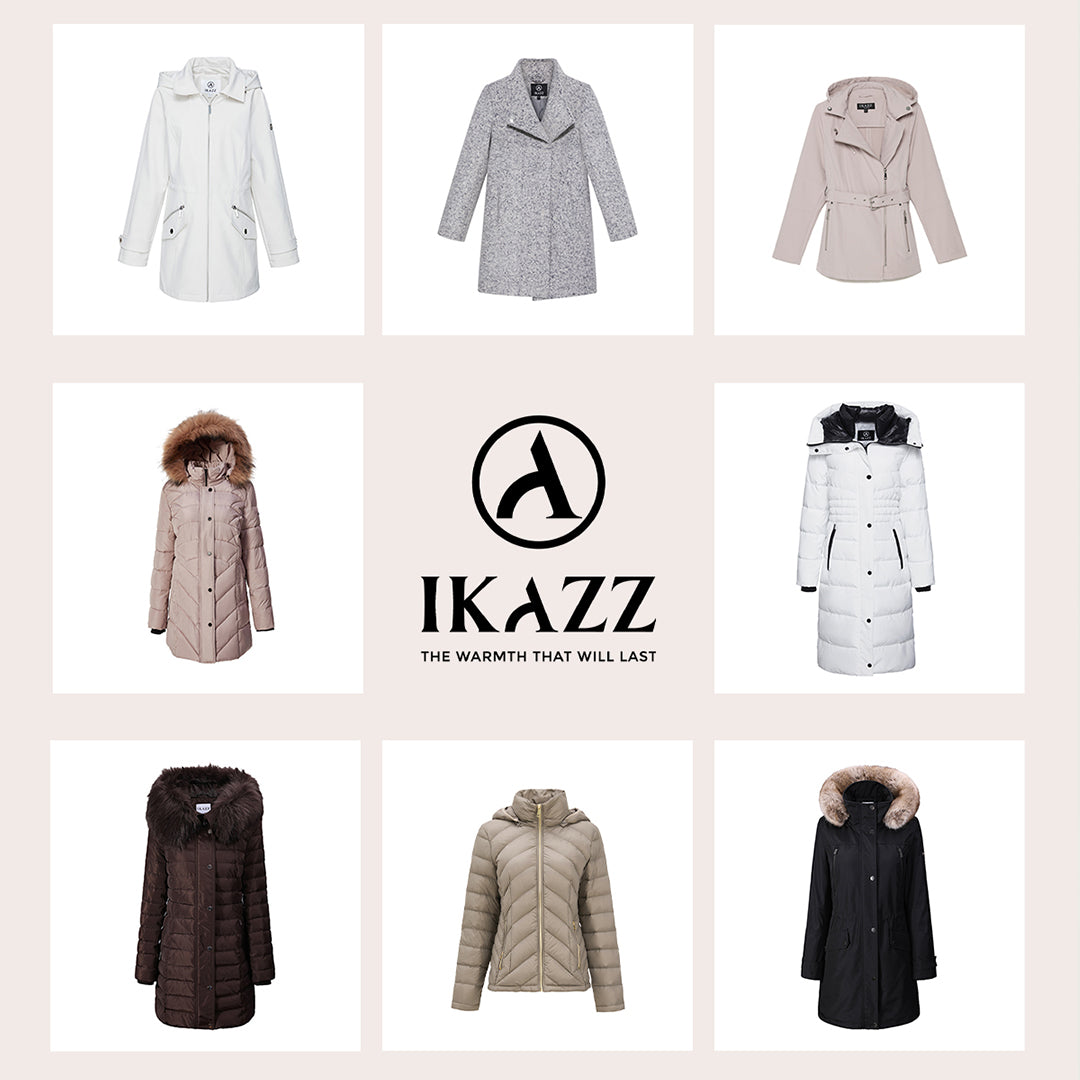 IKAZZ Puffer Jackets Deliver Warmth That Will Last
IKAZZ is a figurative expression of ease, contentment with oneself, and awareness of one's impact on the surrounding ecosystem. The IKAZZ puffer coats blend cutting-edge fashion with unprecedented comfort and functionality.
We are proud of our commitment to developing products that are not only empowering but also warm and environmentally sustainable. These three objectives — Warmth, Self-Pleasing, and Sustainability — constitute our mission allowing one to progress along the road of female empowerment!  
Warmth That Lasts: IKAZZ Puffer Jackets As Reliable Insulators
IKAZZ puffer coats can keep you warm like no other. We produce cutting-edge insulation technology to keep you warm in the harshest conditions, allowing female empowerment while looking classy! The secret is in these jackets' revolutionary manufacturing procedures and materials.
THERMOLITE® Polydown-Designed Insulating Materials
IKAZZ down jackets are filled with the new fiber Thermolite, a high-performance synthetic warmth material that offers excellent warmth and comfort. It mimics the properties of down, providing superior warmth while being lightweight and fast-drying.
Unlike traditional down, Thermolite is hypoallergenic and suitable for people with allergies. In addition, Thermolite is easier to care for, retains warmth even when wet, and is machine washable.
Every woman has her unique beauty. Women's winter down jackets should be aesthetically pleasing as well as functional and warm. Clothes are worn outside, and a sense of female empowerment is born from within.
The Spirit Of Self-Pleasing: Embracing Comfort And Style
IKAZZ knows comfort is vital for outerwear. Our puffer coats are stylish and comfortable while focusing on female empowerment. In our culture, female empowerment means encouraging people to embrace themselves. By reducing body image anxiety and seeing their unique beauty, we aim to help people build confidence.
In addition, women's winter clothing should allow them to do whatever they want and remain comfortable and accessible during any activity without becoming a shackle on their beauty. IKAZZ jackets come in various colors and styles and are designed for comfort and freedom of movement.
So whether hiking or shopping, IKAZZ jackets won't restrict your movement, adjustable hoods, cuffs, and hems help you customize the fit and comfort, keeping you warm in any climate.
Fashionable Expression: Honoring Personal Style
IKAZZ puffer jackets are designed with social attributes and current fashion trends in mind. We offer many styles to showcase unique personalities and fashion senses, promoting female empowerment because we want people to feel good about themselves and build confidence when wearing our clothing.
Self-pleasing IKAZZ puffer coats combine comfort, style, and versatility, allowing emotional self-awareness. Our jackets wrap you in warmth and coziness for the most comfortable and enjoyable experience.
We encourage people to embrace their uniqueness and offers a wide selection of designs. You can choose our puffer jackets that will give you the confidence to show off your elegance on any occasion. Whether you go brunch, hike, or meet up with friends, you can show off your spirit and glamour.
Sustainable Production: IKAZZ's Commitment To Environmental Responsibility
At every stage of production, IKAZZ strives to minimize its environmental impact. We know how important it is to protect our planet and constantly seek methods to green our company practices. From raw materials to puffer jacket assembly, IKAZZ prioritizes sustainability by being a sustainable factory.
Eco-Friendly Products For Conscious Consumption
IKAZZ puffer coats use eco-friendly fabrics to lessen the environmental impact. As a sustainable manufacturer, we appreciate the need to reduce waste and animal-related source dependence. Using animal-free materials to make puffer jackets can contribute to sustainable development in several ways:
Animal-free materials eliminate the need for animal-derived materials like down feathers, fur, or leather. By opting for animal-free alternatives, we can protect animals from harm and reduce the demand for animal cruelty products.
The production of animal-derived materials often has a significant environmental footprint. Raising animals for fur, down, or leather requires large amounts of land, water, and feed. It also contributes to deforestation, greenhouse gas emissions, and water pollution.
Animal-free materials, such as synthetic insulation, can be produced using fewer resources than animal-derived materials. Using synthetic insulation, our sustainable factory can minimize the strain on ecosystems and promote sustainable resource management.
We prioritize ecologically friendly waste management to reduce the carbon footprint and promote a circular economy, making us a sustainable supplier.
Conclusion
IKAZZ s jackets use cutting-edge insulation technologies and materials for industry-leading warmth. Due to our dedication to self-satisfaction, coziness, and environmental responsibility, we have carved IKAZZ's selves a niche in the market.
IKAZZ offers customizable design options to prioritize comfort and style while promoting female empowerment. Moreover, it is known for using eco-friendly production methods and materials. We commit to eco-friendly production methods and materials, making us a great choice for those who want to stay warm, feel confident, and be sustainable.