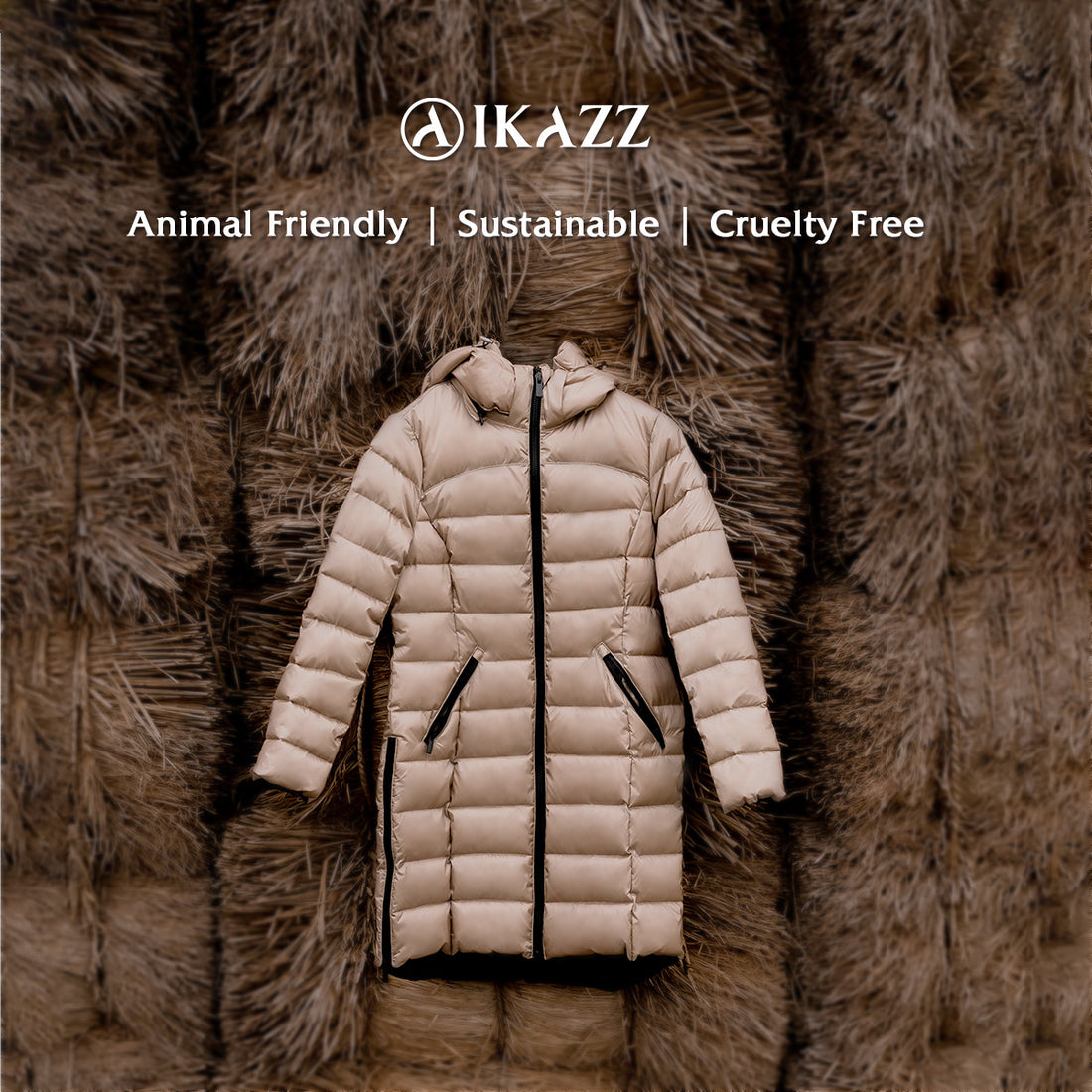 Discover Vegan Puffer Jacket for Winter | IKAZZ FW2023 Collection
Embracing the growing awareness of ethical fashion, IKAZZ addresses the need for cruelty-free brands with its innovative vegan, lightweight Puffer Jackets. In response to ethical concerns surrounding animal treatment within the fashion industry, IKAZZ's FW2023 collection presents a range of animal-product-free puffer jackets that seamlessly blend warmth and style. These eco-friendly vegan puffer jackets are crafted from high-quality materials to ensure both comfort and durability, suitable for a variety of preferences and occasions.
The collection offers a wide range of colours, styles and lengths to choose from, allowing people to make ethical fashion choices without sacrificing elegance. By choosing IKAZZ, consumers can embrace conscientious fashion and make a positive impact on the environment and animal welfare while staying warm and stylish all winter long. So join us on a journey where fashion-forward choices are intertwined with care for the planet.
Benefits of Vegan Puffer Jackets
The collection offers a wide range of colours, styles and lengths to choose from, allowing people to make ethical fashion choices without sacrificing elegance. These jackets are stylish and sustainable, showcasing the benefits of using vegan materials.
Environmental Responsibility: By opting for vegan materials, we contribute to environmental preservation by avoiding the negative impacts of animal-based material production.
Comfort and Durability: Recycled polyester offers strength against wear and tear, while faux fur replicates the warmth and softness of genuine skin without ethical concerns.
Innovation in Design:Our innovative insulation method delivers the same level of warmth as traditional down filling, maintaining superior comfort without harming animals.
The Designs and Aesthetics of Vegan Puffer Jackets
Diving into the realm of fashion innovation, the IKAZZ collection brings forth an exquisite array of vegan puffer jackets that effortlessly marry form and function. Here are the details of the new upcoming products.
1.
Gianne (Women's Packable, Lightweight Hooded Puffer Coat)
The Gianne women's packable, light hooded puffer coat is a must-have for anyone seeking to conquer the great outdoors. It is not only lightweight but also hot and cruelty-free thanks to its vegan down puffer design; it has an adjustable zipper, which brings ultimate comfort. Moreover, this Slim waist-tightening design outfit features a durable, water-repellent finish that can withstand even the most torturous rain showers.
And let us remember the flattering fit, which guarantees your appearance and guarantees you will be participating in any outdoor activity. So, if you're looking for a versatile, functional, and stylish coat, look no further than the Gianne women's packable, lightweight hooded puffer coat.
Alt Text: Gianne hooded puffer coat
2.
Lena (A Lightweight, Shiny Puffer Coat With Hood)
Lena, the women's light, shiny puffer coat with hood, is a perfect example of a vegan puffer coat. With the quality of the beautiful side zip pockets, this coat provides insulation to keep you warm and cozy during the colder months without using animal products. The coat's shiny finish adds a stylish and trendy look, making it perfect for any occasion. In addition to being fashionable, Lena is also easy to clean and maintain. With Lena, you can enjoy insulating warmth, lightweight comfort, and ethical fashion.
Alt Text: Lena puffer jacket
3.
Verena (Women's Shiny Belted Puffer Jacket With Hood)
Introducing our Verena Women's Shiny Belted Puffer Jacket with Hood! With rib-knit cuffs, this jacket is a versatile addition to your wardrobe that provides both style and function and is eco-friendly. This jacket comes in multiple colours and provides comfort and protection from the elements. With its adjustable hood, you can protect your head against the wind and rain while maintaining a stylish look.
Alt Text: Verena puffer jacket
Alignment of Fashion With Ethics and Sustainability
Fashion is not just about looking good; it's about doing good. At IKAZZ, we firmly believe in aligning style with ethics and sustainability. We take great pride in our commitment to bring warmth to our customers without causing harm to animals. These jackets are crafted from alternative materials and are filled without the use of fur or down. We encourage our customers to explore our collection of vegan puffer jackets on our website and look great while feeling great about their impact on the planet.
Conclusion
IKAZZ is a fashion company that values aesthetics and emphasizes ethics and sustainability in its products. Vegan puffer jackets are a testament to our commitment to providing warm, comfortable, and stylish clothing while remaining cruelty-free and environmentally conscious.
IKAZZ is not just another fashion brand; we are a company that inspires confidence and empowers individuals to embrace themselves while being kind to the planet. We have a range of styles and colours to ensure everyone can find their perfect coat. Choosing us means choosing fashion without compromise.