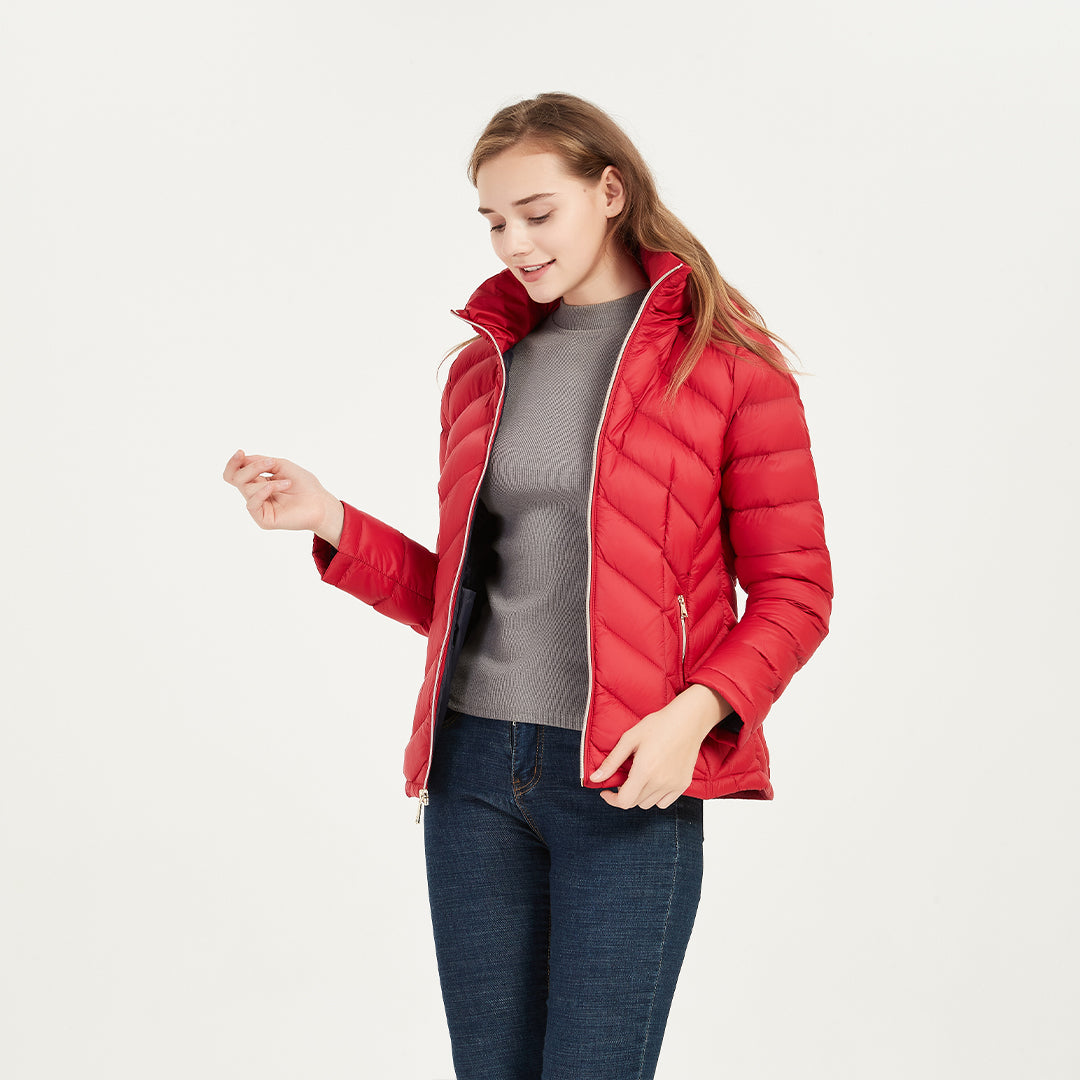 Elevate Your Style with IKAZZ's Cropped Puffer Jacket
For over 20 years, we at IKAZZ have been dedicated to providing our customers with fashion choices that enhance their appearance while instilling confidence and charisma. We believe in leaving a smaller footprint on the planet, ensuring that our products are made without exploiting animals during production. Our mission is to deliver long-lasting warmth through innovative materials and designs. By consistently exploring alternative fabrics and prioritizing inclusive designs, we offer you the perfect fashion choice to embrace and be yourself. Introducing the IKAZZ Cropped Puffer Jacket—a combination of style, warmth, and sustainability.
Lightweight, warmth, and functionality
The IKAZZ Cropped Puffer Jacket is designed to provide ultimate warmth without compromising on style or comfort. Its breathable ultra-light shell ensures that you stay cozy without feeling weighed down. The high-density water-resistant and windproof features protect you from the elements, making it ideal for your everyday winter adventures. The waist-tightening design flatters your figure, creating a slimming effect that boosts your confidence. Plus, the detachable hood provides versatility, allowing you to adapt to changing weather conditions effortlessly.
Thoughtful design and sustainable features
At IKAZZ, we prioritize inclusive design and sustainability. The V-quilting pattern on our Cropped Puffer Jacket creates visual slimming, enhancing your silhouette. The elastic cord at the back adds an inclusive touch, accommodating different body types comfortably. Our commitment to sustainability is reflected in the use of natural materials. The jacket is made of 100% polyester, both in the shell and lining, ensuring its durability and lightweight attributes. With double-color fabrics inside and outside, our jacket exudes a unique and stylish appeal.
At IKAZZ, we care about not only enhancing your appearance but also bringing you confidence and charisma. By consistently exploring alternative fabrics and designs, we offer fashion choices that help you embrace and be yourself. Our Cropped Puffer Jacket provides a fair amount of insulation without excess bulk, effortlessly weathering your average winter.
When you choose IKAZZ, you are choosing a brand that values sustainability and ethical practices. Our products are made without exploiting animals, aligning with our commitment to leaving a smaller impact on the planet. With high-density water resistance and windproof properties, our jackets not only keep you warm but also protect you from the elements.
Conclusion
In conclusion, the IKAZZ Cropped Puffer Jacket combines style, warmth, and sustainability, making it the perfect addition to your winter wardrobe. Its lightweight construction and soft material make it easy to pack and carry, allowing you to stay warm wherever you go. We recommend hand wash or dry cleaning for optimal care, ensuring that your jacket retains its quality for years to come.
Elevate your style this winter with the IKAZZ Cropped Puffer Jacket. It's more than just outerwear; it's an expression of your personality and values. Embrace the warmth, comfort, and sustainable fashion that IKAZZ offers. Let us accompany you on your journey to feel good about yourself while leaving a positive impact on our planet.