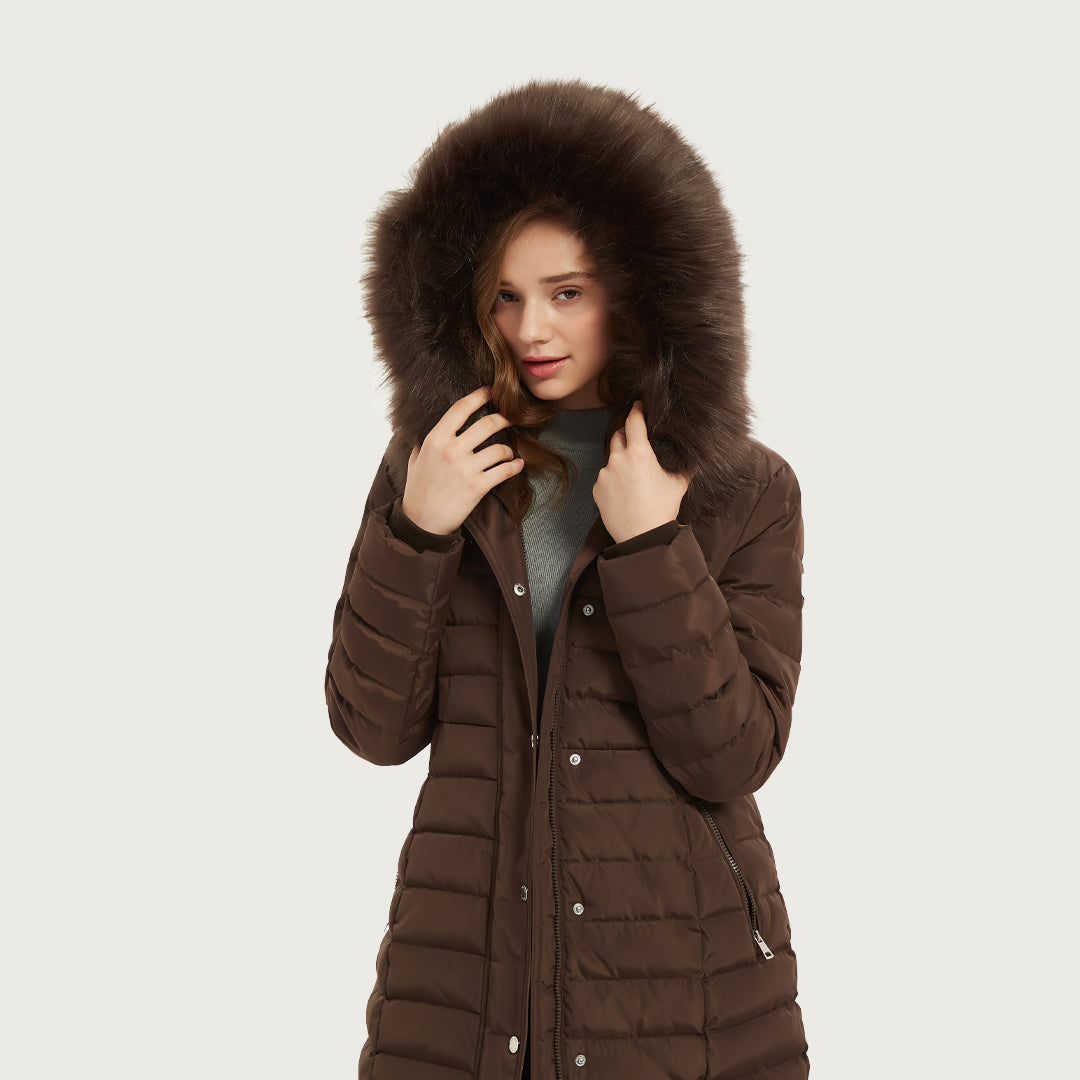 Embrace Winter with Confidence and Warmth in IKAZZ's Puffer Cat
IKAZZ has been committed to doing the right thing for our customers within the fashion industry for over 20 years. We believe that fashion is not just about enhancing your appearance; it's also about bringing you confidence and charisma while minimizing our impact on the planet. Our mission is to deliver long-lasting warmth by exploring alternative materials and ensuring that no animals are exploited during production. At IKAZZ, we understand that true beauty comes from embracing yourself and being comfortable in your own skin. With our "puffer coat" collection, we offer the perfect blend of style, warmth, and conscious fashion.
Unmatched warmth and stylish design
Our puffer coat is designed to provide unmatched warmth without compromising on style. The 100% warmth stuffing made of THERMOLITE® ensures optimal insulation, keeping you cozy even during winter's wildest moments. The high-density water-resistant and windproof features shield you from the elements, allowing you to confidently step out in any weather condition. The parallel quilting and waist-tightening design flatter your figure while providing maximum comfort. Additionally, the big button down detachable faux fur hood adds an extra touch of warmth and style, making it a versatile option for various occasions.
Lightweight and ethical features
At IKAZZ, we prioritize lightweight comfort and ethical practices. Our puffer coat is crafted using THERMOLITE® Polydown, a 100% polyester windproof fabric. This innovative material offers durability, excellent insulation, and a lightweight structure. The THERMOLITE® fiber is designed with a 3D hollow structure, providing high filling power and resilience. It dries quickly when in contact with water, ensuring optimal comfort in all conditions. Additionally, our puffer coat is animal-free, meaning no animals are harmed in its production. With high-density water-resistant and windproof properties, our coat provides the ultimate protection against the elements without compromising on comfort.
Care guide
We care about the longevity of our products and recommend following our care guide for optimal maintenance. Remember to remove the faux fur collar before washing and machine wash cold separately or with like colors on a gentle cycle. Use only non-chlorine bleach when needed, tumble dry low, and cool iron if necessary.
By choosing IKAZZ, you're not just investing in a puffer ckoat; you're supporting a brand that believes in empowering individuals while minimizing our impact on the planet. Our coats are more than just outerwear; they are a reflection of your values and personal style.
Conclusion
In conclusion, IKAZZ's puffer coat embodies our commitment to providing you with style, warmth, and conscious fashion choices. This coat is designed to enhance your winter wardrobe while keeping you cozy and comfortable. The use of THERMOLITE® Polydown ensures excellent insulation and a lightweight feel. It is true to size, allowing you to order your usual size with confidence.
Embrace the winter season with confidence and warmth in IKAZZ's puffer coat. With its unmatched warmth, stylish design, lightweight comfort, and ethical features, this collection is the perfect choice for those who want to stay warm, look fashionable, and make a positive impact. Choose IKAZZ and let us be your trusted companion on your winter adventures.