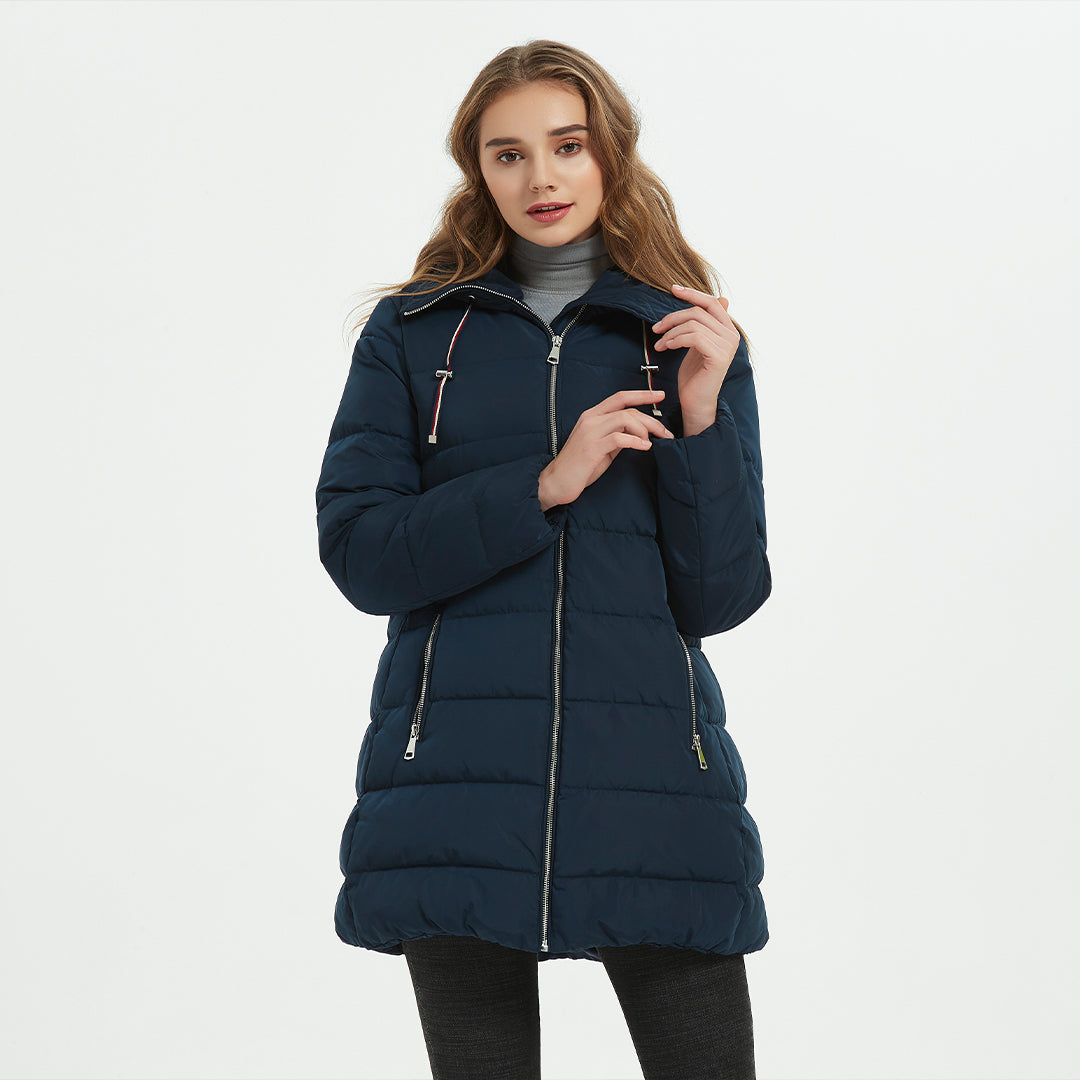 Embrace Winter in Style and Warmth with IKAZZ's Women's Puffer Jacket
At IKAZZ, our mission is to deliver lasting warmth to people while encouraging self-acceptance and reducing body anxiety. We are passionate about helping others, and our winter jackets are designed with thoughtful solutions to meet the needs of individuals in cold weather. Our commitment extends beyond people—we aim to make a positive impact on the planet by being sustainable and minimizing our environmental footprint. With our Women's Puffer Jacket collection, we offer a blend of style, comfort, and conscious fashion that will keep you warm and confident.
Uncompromising warmth and stylish design
The Women's Puffer Jacket from IKAZZ is crafted to provide uncompromising warmth without sacrificing style. The jacket features 100% warmth stuffing made of THERMOLITE®, a thick and wash-durable material with excellent water resistance. It keeps you cozy and protected even in the harshest weather conditions. The high-density water-resistant and windproof properties ensure that you stay dry and shielded from the elements. The parallel quilting adds a modern touch, enhancing the overall aesthetic appeal of the jacket. Additionally, the adjustable stylish hood with a tri-color drawstring allows for a customized fit, while the wide-brimmed design maximizes windproofing.
Thoughtful features and sustainability
IKAZZ prioritizes inclusive design and sustainability in our Women's Puffer Jacket. The elastic waist magic provides an adjustable fit, allowing you to feel comfortable and confident. The elastic cord at the back adds an inclusive touch, accommodating different body types comfortably. Furthermore, the elastic cords at the hem and cuffs contribute to enhanced windproofing and warmth.
Our commitment to sustainability is reflected in the materials we use. The Women's Puffer Jacket is made from THERMOLITE® Polydown, a natural and animal-free fiber. It is designed with a 3D hollow structure, providing high filling power and resilience. The jacket's lightweight construction makes it easy to wear and carry while ensuring optimal warmth. We encourage responsible care through our care guide, which includes machine washing cold separately on a gentle cycle and using mild detergent.
IKAZZ commitment
At IKAZZ, we care not only about keeping you warm but also about empowering you to embrace yourself. Our jackets are designed to reduce body anxiety and build confidence, allowing you to feel comfortable and beautiful in your own skin. By choosing IKAZZ, you're supporting a brand that strives for sustainability and minimizes its environmental impact.
Conclusion
In conclusion, IKAZZ's Women's Puffer Jacket combines style, warmth, and sustainability to provide the perfect winter outerwear. With its uncompromising warmth, stylish design, and thoughtful features, this jacket will keep you cozy while boosting your confidence. The use of THERMOLITE® Polydown ensures durability, water resistance, and optimal insulation. It is true to size, allowing you to order your usual size with confidence.
Embrace winter in style and warmth with IKAZZ's Women's Puffer Jacket. Experience the lightweight comfort, inclusive design, and ethical fashion choices that will enhance your winter wardrobe. Let us be your trusted companion on your journey to self-acceptance and making a positive impact on the planet. Choose IKAZZ and enjoy the warmth and confidence that comes with embracing yourself.