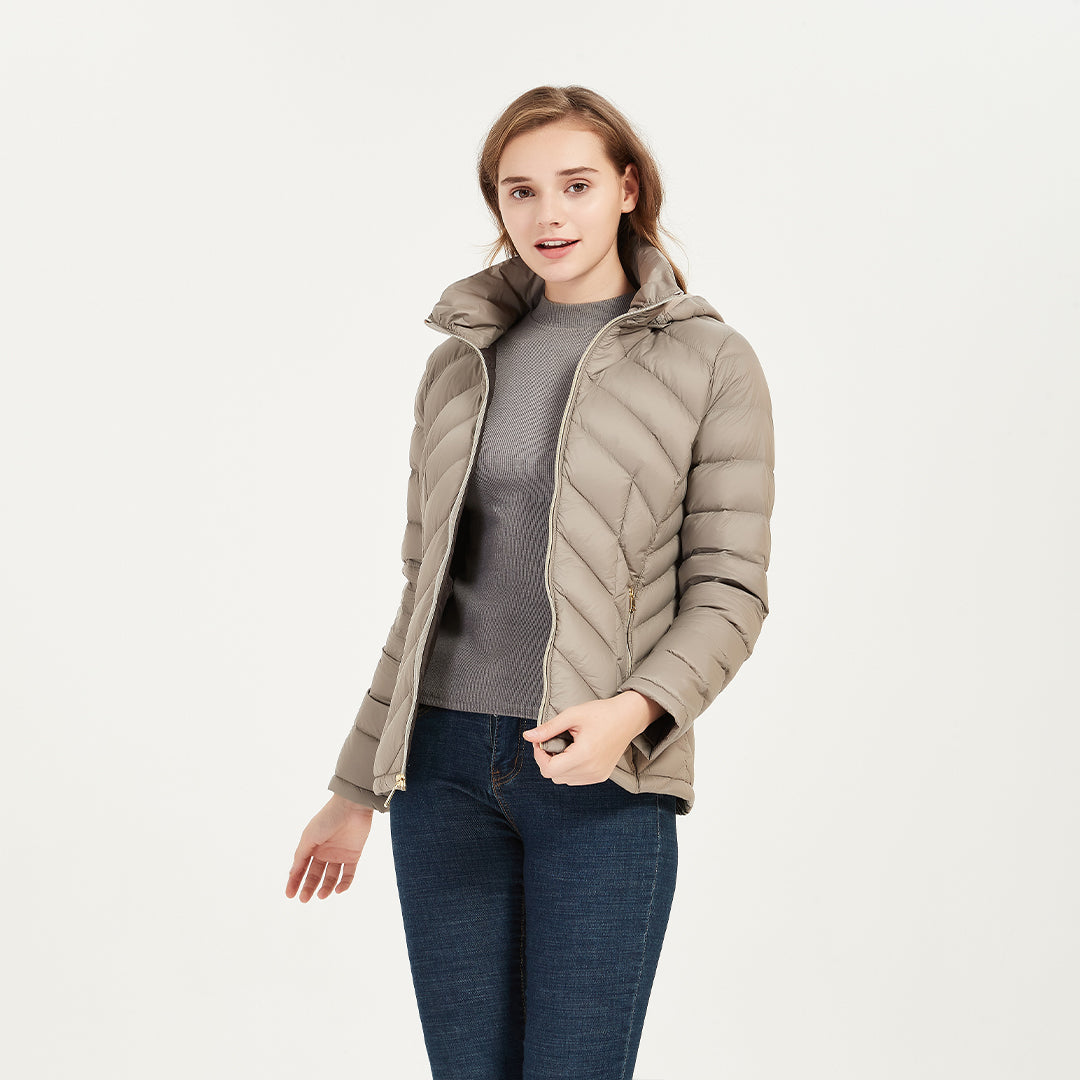 Packable puffer jacket women
Hello and welcome to IKAZZ! Today, we want to talk to you about our packable puffer jacket women and why it's the perfect addition to your wardrobe.
Material used
First of all, let me tell you about the materials we use. Our shell and lining are both made of 100% polyester with a high-tech fabric that is breathable and ultra-lightweight. This material is not only comfortable to wear, but it also provides excellent insulation, keeping you warm during the colder seasons. Additionally, our jacket is designed to be high-density water-resistant and windproof, making it ideal for outdoor activities.
Unique feature of IKAZZ jacket
One unique feature of our jacket is the waist-tightening design and detachable hood. The elastic cord at the back is more inclusive and provides a customizable fit that accentuates your figure. Plus, you can easily remove the hood when you don't need it, giving you more versatility in how you wear the jacket.
The visual slimming effect of the V-quilting creates a sleek and stylish look, while the double-color fabrics inside and outside add a pop of color that's perfect for any occasion. And because our jacket is made with natural materials, it's animal-free and eco-friendly.
At IKAZZ, we understand the importance of comfort and convenience when it comes to outdoor clothing. That's why our packable puffer jacket is lightweight and easy to compress and pack, making it an ideal choice for travel or on-the-go activities. With a true-to-size fit guide, you can order your usual size and rest assured that it will fit perfectly.
When it comes to care instructions, we recommend hand wash or dry clean only. Do not bleach and use a gentle cycle with mild soap or detergent. Hang dry to ensure the longevity of your jacket.
Finally, let's talk about warmth. Our packable puffer jacket is rated Level 2 for cold weather, providing a fair amount of insulation without excess bulk, easily weathering your average winter. Whether you're going on a winter hike or just running errands around town, our jacket is sure to keep you warm and comfortable.
Conclusion
In conclusion, our packable puffer jacket for women is an excellent investment for anyone looking for a versatile and stylish jacket that's also practical and functional. With its lightweight and breathable material, customizable fit, and convenient design features, this jacket will quickly become your go-to outdoor clothing item. Thank you for choosing IKAZZ!