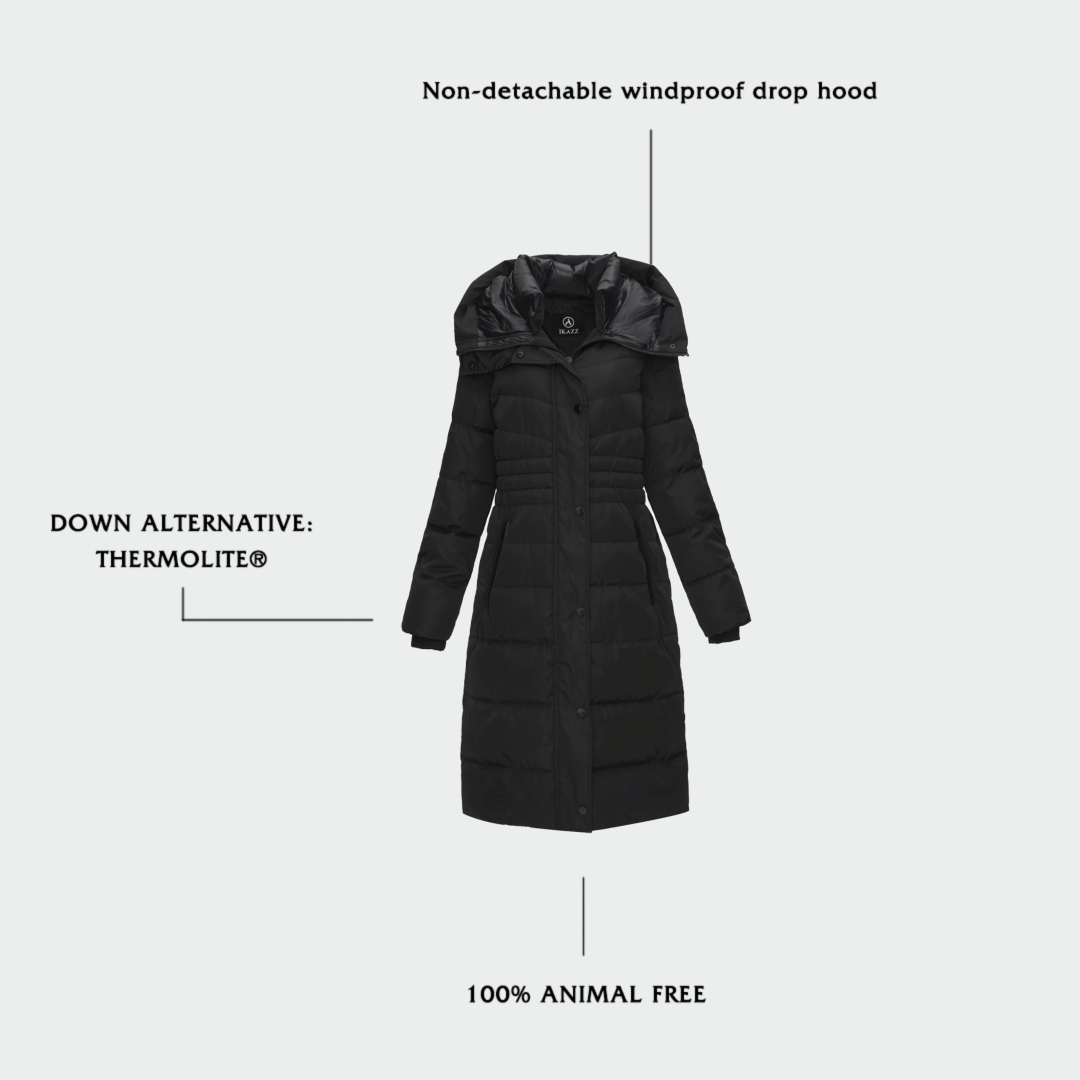 Stay Stylish and Warm with the IKAZZ Long Puffer Coat
The IKAZZ long puffer coat is a must-have for any woman looking for a stylish and practical winter coat. This coat from IKAZZ Store is perfect for those who want to stay warm while still looking fashionable.
IKAZZ's features
Our coat features a drop hood that offers extra protection from the elements, making it ideal for cold and windy days. The hood is a non-detachable windproof drop hood. Our coat also has a high collar that provides additional coverage and warmth for the neck area.
One of the standout features of our coat is its length. It falls just above the knees, making it perfect for women of various heights. The length also provides extra coverage and insulation, keeping the legs warm and protected from the cold.
IKAZZ's high-quality jacket
The IKAZZ long puffer coat is made with high-quality materials that are designed to withstand harsh weather conditions. The outer shell is made of high-density fabric, which is both water-resistant and windproof. The lining is made from soft and warm faux fur that ensures maximum comfort and insulation.
Our coat is available in several colors, including black, navy blue, olive green, and burgundy. All of these colors are versatile and can easily be paired with different outfits. Whether you're running errands or going out for a night on the town, this coat will keep you warm and stylish.
Our coat has a slim fit design that flatters the body's natural curves without feeling restrictive. It's important to note that the coat runs small, so it's recommended to order a size up for a comfortable fit.
Cleaning and maintaining the coat is easy. It's machine washable, making it convenient for those who don't have time to hand wash their clothes. It's important to follow the care instructions provided by the manufacturer to ensure the coat lasts for a long time.
Conclusion
In summary, the IKAZZ long puffer coat is an excellent choice for women looking for a stylish and practical winter coat. Our coat's length, drop hood, and high collar provide extra coverage and protection from the elements. The high-quality materials used in its construction make it durable and reliable, while the faux fur lining ensures maximum comfort and warmth. With several color options and convenient pockets, our coat is a versatile addition to any winter wardrobe.