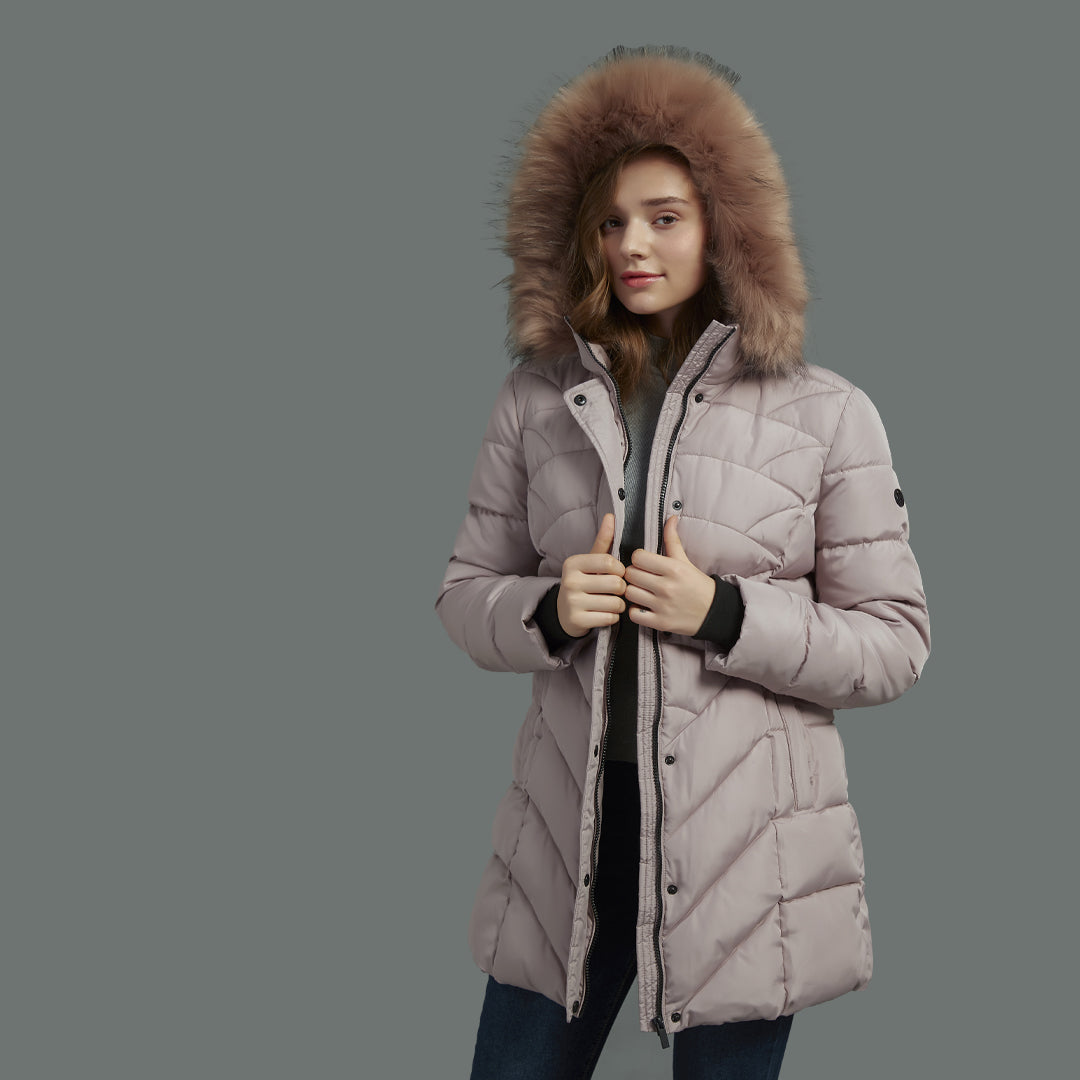 Stay Warm and Cozy with IKAZZ
Today at IKAZZ, we want to share with you all about our puffer jacket with fur hood. As the weather gets colder, we understand how important it is to have a jacket that provides warmth and comfort without compromising on style. That's why we've created a puffer coat for women that not only keeps you warm but also looks great.
Materials that keep you warm
Firstly, let's talk about the warmth of this jacket. Our puffer coat is filled with THERMOLITE® Polydown, which provides 100% warmth stuffing. This new fiber is designed with a 3D hollow structure, which brings high filling power and resilience. It's also incredibly lightweight, so you won't feel weighed down while wearing it. This makes it perfect for those freezing temperatures when you need maximum warmth to weight ratio.
The high-density water-resistant and windproof fabric of the jacket are made from 100% polyester. This ensures that you stay dry and warm even in harsh weather conditions. Additionally, the non-detachable hood and removable faux fur provide extra warmth and insulation. The big button-down detachable faux fur hood can make more warmth, and the RIB-KNIT cuffs in high elastic & stylish slim waist design ensure a snug fit.
Stylish and functional design
In terms of design, we have ensured that our puffer jacket is both stylish and functional. The parallel quilting and waist-tightening design create a visually slimming effect, accentuating your figure and giving you confidence in your appearance. We offer a variety of colors such as Dark Roast, Black, Blue, and White Wool Coats for Women's to suit every outfit.
Keeping warm without harming animals
One of the unique features of our puffer jacket is its natural material. We believe in being animal-free, and our jacket is made from materials that align with our values. You can feel good knowing that your purchase isn't harming animals or the environment.
Our puffer jacket is also lightweight, which makes it perfect for those on-the-go. Whether you're going for a walk or running errands around town, this jacket is an excellent choice.
Conclusion
In conclusion, our puffer jacket with fur hood is the perfect combination of warmth, style, and functionality. It's made from durable materials, provides maximum warmth, and is designed to look great while doing it. Plus, you can feel good knowing that your purchase aligns with our values of being animal-free and eco-friendly. So why wait? Order yours today and experience the benefits of an IKAZZ puffer jacket with fur hood.